UMILTA WEBSITE || OLIVELEAF WEBSITE || JULIAN OF NORWICH, TEXT AND CONTEXTS || BIRGITTA OF SWEDEN, REVELATIONES, WEBSITE || CATALOGUE AND PORTFOLIO (HANDCRAFTS, BOOKS ) || BOOK REVIEWS || BIBLIOGRAPHY || FLORIN WEBSITE ©1997-2024 JULIA BOLTON HOLLOWAY



OLIVE LEAVES IN

NAIROBI AND OMAGH


n the banks, on both sides of the river, there will grow all kinds of trees for food. Their leaves will not wither nor their fruit fail, but they will bear fresh fruit every month, because the water for them flows from the sanctuary. Their fruit will be for food, and their leaves for healing. Ezekiel 47.12

hen the angel showed me the river of the water of life, bright as crystal, flowing from the throne of God and of the Lamb through the middle of the street of the city. On either side of the river is the tree of life, with its twelve kinds of fruit, producing its fruit every month; and the leaves of the tree are for the healing of the nations. Revelation 22.1-2

he wrongdoers shall be sternly punished. As for those that have faith and do good works, they shall be admitted to gardens watered by running streams, in which, by their Lord's leave, they shall abide for ever. Their greeting shall be: 'Peace!' Koran 14.23
t is five years since we began with olive leaves. First, so spontaneously sending a thousand of them, already blessed to Nairobi, picked from above Florence, in the wake of their Embassy bomb. Then, taking a huge sack of them on the plane to Dublin, following the children in my village picking the branches. The telling of all this at the time through electronic letters to each other unfolds below.

Today, a book has arrived from Omagh, 'with compliments'. It is Carole Kane's Petals of Hope. And in it she speaks of our olive leaves:
Olive leaves had been received in Omagh, by Canon Charles Leek, the Church of Ireland Rector, from a contact within the Anglican Community in Nairobi. The olive leaves originated in Italy and had been sent to Nairobi at the time of the explosion at the American Embassy in August 1998. They had been gathered by children and sent to Nairobi as a symbol of love and healing. They were used in a torchlight parade in Nairobi in commemoration of those who had died and had then been forwarded to Canon Leek as a symbol of solidarity and love for the people of Omagh. It was agreed that the olive leaves would be used in these pieces of art.
Not quite the whole story for we sent them to both places, from our small village of Montebeni. But I find myself in tears turning the pages of this book, seeing the images, made by the people who survived and who grieved, reading Seamus Heaney's magnificent poetry:
So hope for a great sea-change
On the far side of revenge.

Believe that a farther shore
is reachable from here.

Believe in miracles
And cures and healing wells.
All libraries should own this book and copies may be bought by writing to 'tourism@omagh.gov.uk'.
Noah waited another seven days, and again he sent out the dove from the ark; and the dove came back to him in the evening, and there in its beak was a freshly picked olive leaf. Genesis 8.10-11.

'When they had sung the hymn, they went out to the Mount of Olives . . . Then Jesus went with them to a place called Gethsemane', Matthew 26.30, 36, Mark 14.26, 32, Luke 22.39.
---
At 23.22 09/08/98 +0300, Isabelle, who is Irish, wrote from Nairobi:
Dear Godfriends,
You may have heard, this week-end, of the great tragedy here in the city Nairobi , from the bomb that exploded near the American Embassy last Friday. Nairobi is where I have been working, for over seven years now, at All Saints' Cathedral (Anglican Church of Kenya). My task is development work - helping three slum communities as they develop themselves.
Nairobi has never had a bombing, nor has it ever experienced any other catastrophe of this suddenness and scale. The only bomb that has ever caused deaths in Nairobi, was a Palestinian one many years ago, which was aimed at an Israeli-owned hotel. Nothing since then.
I am sure you will have heard the terrible statistics - deaths rapidly creeping up to 150 persons (and likely to significantly exceed this figure when the final toll is taken), with another 100 or more still missing, over 1,400 admitted to hospitals with injuries, over 4,000 injured (if those already discharged from hospitals are included), 23 solid buildings (including high-rise office blocks) completely destroyed, some 30 others badly damaged, all windows and doors broken in a radius of 1 km. Many of the injuries (as well as some of the fatalities) were caused by flying glass, with terrible wounds to people's faces.
The 5-storey office block behind the American Embassy took the brunt of the blast - several storeys contained a secretarial college, and it is the young students who suffered particularly badly. Several of the "luckier" ones were trapped in a lift, and rescue workers (including an Israeli team) are still trying to free them. Three died as the rescue workers had almost reached them, two were taken out alive last night.
The whole area has been sealed off to traffic. There is a curfew in the city centre at night, in order not to hinder the rescue teams. All festivities have been cancelled, and flags will be flown at half-staff for a week.
Appeals were made over the radio and television for all medical doctors and trained medical personnel (particularly surgeons) to report for duty at the various hospitals, and indeed the hospitals have done truly remarkable work with the help of these and other volunteers. The hospitals in Nairobi are always overstretched, and I have visited patients lying two to a bed - but space was found for all the injured, and some of them were taken out into the broader commuter belt for treatment.
My colleague Kathleen has a brother working as a doctor in Aga Khan Hospital. And one of her good friends is the Matron of the same hospital. Both doctor and matron have hardly slept over the past few nights - and if time had been there, they would have been unable to sleep . . . Some of the injuries they have attended to, are horrendous - people missing jaws, parts of their faces, eyes . . .
Nairobi is full of stories of selfless acts. A friend, who narrowly escaped death himself, and whose car miraculously survived, spent all day Friday ferrying the injured to the various hospitals in his car, and only gave up after several hours, when his car was drenched in blood and he grew physically sick. Another friend spent all day driving his neighbours in an outlying suburb into town, so that they could donate blood at a special centre opened by the Red Cross in a public park right next to our Cathedral.
It now looks as though the bomb had been planted by international terrorists from the Middle East. Four Arabs have been arrested, Egyptians among them. Possibly Kenya and Tanzania (where there was a simultaneous bomb, causing far less damage and loss of life) were regarded by them as soft targets, since the US Embassies here would not be conscious of any threat to their staff.
Two of my colleagues, Louise and Lucy, were in town at the time, close enough to be physically shaken by the blast and to see the flying glass. Our Provost was conducting a Service in the Cathedral, about 2 km away from the explosion site, when the church was rocked by what he thought to be a violent earthquake, one of the windows shattered, and his Bible covered in fine dust dislodged from the ceiling.
Even in the suburb of Nairobi where I live, about 8 km away from the epicentre of the blast, the explosion was so loud that the houses shook and people gathered, wondering what had happened. There are quarries nearby, where stones are regularly blasted. Was the explosion from the quarries? And yet, it had sounded far louder than that.
This morning, the whole city was still quiet and in mourning; it had not yet come to terms with the enormity of its loss. Every conversation starts the words "where were you when..." and "whom did you lose..."? I found myself laughing through tears, when I saw so many people still *alive*. They are like a gift from God, all over again.
The Main Service in our Cathedral (11.00 am) was packed. Every last seat was taken - even the spare Choir Stalls and Canons' Stalls. We must have had a congregation well above the usual 1,200. The Provost asked those affected by the bomb to come forward for prayers :
* those who were missing family members not yet accounted for;

* those who had family members injured and still in hospital;

* those who had been injured themselves but had made it to the Cathedral this morning; and finally

* those who had lost family members through the blast.
As far as I could count, there were
* 7 who had lost family members,

* 4 who were missing family members,

* about 50 who had family members in hospital, and

* 3 who had come to the Cathedral after being injured themselves (they were all bandaged extensively).
We were asked to pray for each group in turn, and it fell to me first to pray for the family of one of our congregation, Lucy Onono, who was a staff member at the American Embassy and had not yet been found. Later, praying for those who had lost family members - those seven, kneeling in front of me, quietly weeping - it was impossible to keep my voice steady, but I found words arising from the loss of my own father (in vastly different circumstances) earlier this year. May God comfort all those who have suffered so much, and for no reason that we can yet understand . . .

Nairobi is a big city (population 2 to 3 million), but this tragedy affects us all. There is not one person here who is not feeling the pain. The degree of suffering is vastly different, of course, but we are all suffering. Some will suffer for many months to come. Please pray for their healing, for the light of God's love to shine into their world in its upheaval, and for comfort and consolation to all who will so desperately need it. Please pray also that we who have been spared may be blessed to become instruments of God's love and peace for others.

Thank you for bearing with me as I write these stories (it is probably part of my own healing to recount them to you), in God's friendship,

Isabelle Prondzynski, Funding Co-ordinator, All Saints' Cathedral, P.O. Box 40539, Nairobi, KENYA

---
Dear Isabelle and all Godfriends in Nairobi,
I've talked with Padre Superiore and two other priests of our Comunita`, don Serafino, don Silvano, don Bernardo, and we all agree. We should like to send you for your cathedral and for all who need them, something tangible, healing, reconciling, in the form of a thousand blessed olive leaves. Could I have your address or where we should send them? The idea is from the leaves of healing for the nations of Ezekiel and Revelation, for Moslem and Christian and all others, no boundaries. Perhaps a tray in the cathedral, perhaps giving them out at Communion and telling people to take a handful and give in turn to all they meet? Whatever you think best. One warning, Italian post is slow. So be patient. But the envelope shall come with all our love and care. It's just a gesture. But perhaps gestures of love are the most valuable and precious we ever receive in our lives. Keep writing to us,
Julia
Painted by Myra Luxmore, 1912, from direct observation in the Holy Land. The painting, by a woman artist, is of the moment just before the Blind Man, about to be healed by Christ's compassion, shall see the exquisite colours and embroidery of their clothing. Given to my Mother Foundress of the Anglican Community of the Holy Family, Agnes Mason, by her brother, Canon Arthur Mason and hung in the Holy Family Chapel. Photographed, Revd Kenneth Clinch.

---
Dearworthy Isabelle,
The thousand plus blessed olive leaves are on their way, courtesy of DHL, to you in Nairobi. Now I hope there can be a further miracle - like that of loaves and fishes - and they be multiplied enough to reach all in need of them. And remember to keep one for yourself, and another for Lucy who was killed, to heal both your memories. The particular passages for these leaves are: Ezekiel 47.13, Revelation 22.2. They are wonderful together.
Julia

---
At 10.34 18/08/98 +0300, you wrote:
Dearworthiest Sister Julia and Godfriends,
This is the first time that I have used this form of address, for its beautiful sound and shape and general satisfactoriness - some time, could you please explain to me its meaning and derivation?
It is a wonderful thought that the olive leaves for the healing of the nations are now on their way to us, having already left you and your Community, presented to God and blessed with your prayers. Thank you for having given us verses Ezekiel 47.12 and Revelation 22.2 with them.
You said in yesterday's message to "keep one for yourself, and another for your dead friend, to heal both your memories". Last night, I went back to the family and just sat with them, as other guests do, having no particular task this time. I told them of the olive leaf for Lucy and shall make sure I deliver it to her in person.
It is customary here to wait for some time before a funeral - the waiting interval being used to sit together every evening and throughout every night, to comfort the family, to pray together, to gather relatives from far and wide, and to raise the necessary funds for the funeral costs. The latter task will be somewhat eased, in this instance, since the government will be contributing to the transport costs of funerals resulting from the bomb, on a moving scale depending on how far away from Nairobi the burial will take place.
The Ononos are Luos and will be travelling almost as far as the Uganda border (beyond Kisumu, on the banks of Lake Victoria) on Thursday evening. Luo burials are great occasions which I know only by reputation - several days of entertaining huge crowds in the rural home area. I am often reminded here of Joseph taking his betrothed to the city of David, his ancestral home. Kenyans, like Joseph, have their ancestral homes and all important functions take place there - except if they are completely uprooted and dispossessed and their entire family is landless... the modern-day urban poor... But even in the slum where we work, the majority of the people still have their rural roots, and few need to be buried in the city cemetery when their time comes. Indeed, the city cemetery has a disproportionately high number of expatriates.
Having a period of "open house", a stream of visitors, and prayers together every evening, has the extraordinary effect of calming the bereaved, making them feel truly comforted and encouraged, giving everyone something to do (i.e. entertaining the visitors, feeding them and helping the family through fund-raising), and preparing people's hearts for the funeral itself.
The funeral service will take place on Thursday at noon - amazingly, of all the many funerals now passing through our Cathedral, it is Lucy's funeral that will happen at precisely the same time as the Ecumenical Memorial Service on the Mount outside the Cathedral! I shall be walking between the two with your olive leaves, praying for God's blessing to be upon families, churches and nations as I do.
Thank you again, and thanks to your Community and all Godfriends, for your warm thoughts and prayers and the blessings which will flow from your gift. And please tell Padre Divo Barsotti that we remember him here and pray for his speedy recovery. I was very touched by his picture of our music joining the angelic voices in praise of God.
With love in Christ,
Isabelle.

---
This has come from DHL headquarters in answer to my query placed August 15, when Italian offices were closed, about posting olive leaves to Nairobi. Actually they went off in an envelope saying it contained a document and a photo. The Italians did this! So there's a chance they'll make it yet! Here's praying they do! But it is a delightful illustration of the potential clash between bureaucracy and spirituality.

At 09.57 18/08/98 -0400,

Dear Sister Julia Bolton Holloway,

We were very pleased to receive your message and we thank you. Unfortunately, we are not in a position to provide you this service as Nairobi is served in 4 working days. Moreover, this kind of content needs to have a phytosanitary certificate, provided from sender's local Health Dptm. This documents would take you other 2 days before forwarding. It means that we cannot make it on time as delivery would be expected at the end of this month.

Thanking you in advance for your kind attention, we remain at your disposal for any further information you may require.

Yours faithfully,

Nives De Masi, Customer Service Assistance

---
At 13.54 19/08/98 +0300, Isabelle wrote:
Dearworthiest Sister Julia and Godfriends,
You wrote yesterday of the olive leaves delivered into the care of DHL :
It looks as though they will be delivered to one Isabelle Prondzynski at All Saints' Cathedral, Nairobi, Kenya, on Thursday. So please tell people there DHL is sending the small package and to sign for them for you.
Thank you so much! Our office (mine and that of my colleagues in our Urban Development Programme) is located inside the Cathedral building - upstairs, beside the organ. It is only when we spend part of the day out of the office (like today), that we need to ask other colleagues to be alert for us. At this stage, almost all the Cathedral staff (some 30 or so) know about your parcel and are watching out for it!

First thing this morning, I got in touch with the Revd Mutava Musyimi, the General Secretary of the National Council of Churches of Kenya, the co-ordinator of tomorrow's National Memorial Service, to make sure that he is aware of the leaves and can plan for their distribution. It was quite a task tracking him down, as the NCCK office building, Church House, is located directly across the road from the American Embassy. Last week, the staff spent all their time tidying and repairing it as best they could and, this week, they have been given time off to seek in-depth counselling to recover from the effects of the blast. Electricity and telephones have not yet been reconnected.

Mutava was happy to hear about the olive leaves and will incorporate them into the Service. He asked us to come with them early, so that he can involve the ushers in their distribution. He is expecting a congregation of 10,000 - so perhaps he will decide that the leaves should be for those most in need of healing. Some 20 or so will go to Lucy's family at her funeral, which will be taking place concurrently.

I also rang DHL and was most impressed with their records - they could tell me precisely how many parcels (3) had been sent from Florence to Nairobi on Monday! They were pretty certain, when I rang, that your parcel had already arrived and was, at that very moment, being taken to the Cathedral by the courier! We are awaiting its safe arrival.

As for ourselves, we are on power rationing until lunchtime. My computer battery is almost exhausted and has cried out that it is about to switch off for a rest, so this goes to you now with what little energy remains, and with every good wish and prayer, love,

Isabelle.

P.S. There was not enough energy left, and the machine switched off even as I was ringing ARCC. But this delay gives me the chance to tell you the good news : the leaves arrived about an hour ago, safe and in good condition, ready for use tomorrow. Thank you so much for having made it possible! And thanks to all you Godfriends for your prayers and support and warm thoughts that accompanied this parcel on its way! Peace and joy to you all, Is.

---
Dear Nives De Masi, DHL,
A thousand plus blessed olive leaves, posted from Florence by DHL on the 17th, safely reached Nairobi this morning, the 19th, within two days! The service at which they will be used tomorrow will be for thousands of people outside the Cathedral. We are so very grateful. Blessings,
---
At 06.25 20/08/98 +0300, Alifa in Jerusalem wrote:
Dear Julia,
If there's one thing I have plenty of, it's olive leaves. I can send a boxful to any of the recent sites of terrorist incidents, albeit with my own very human blessing rather than an "official" one.
Do you have an address in Kenya, Tanzania, or Ireland to which they can be mailed?
Best wishes,
Alifa

---
Dearworthy Alifa,
This is lovely of you. Let me forward this to Isabelle in Nairobi who is Irish and thus has the addresses for Nairobi and for Ireland, and I am sure she can also tell you where the Tanzania posting could best go. She is Anglican but this is beyond all boundaries! I've been giving blessed olive leaves, used up all mine now from Gethsemane, to my worst enemies! It seems to make a difference.

---
At 23.34 20/08/98 +0300, you wrote:
Just the shortest of notes, Dearworthiest Julia, at the end of a long day, to let you know that your prayers were amply answered today and your olive leaves bore their message of consolation to the multitudes on and beyond the Mount.
Details tomorrow! Sleep in joy and peace,
Isabelle.

---
At 14.03 21/08/98 +0300, you wrote:
Dearworthiest Sister Julia and Godfriends,
Even before I typed the very first letter on my keyboard, I could already see that this would be a long message - please excuse me one more time. The next notes should be a lot shorter!
Thank you all, Dearworthiest Godfriends, for your prayers joining ours here yesterday. We were very conscious of your presence with us in spirit. God answered our prayers and gave us a beautiful day, a day of healing, a day of looking back and looking forward, a day of solemn remembrance and of hope.
Arriving at the Cathedral for our Staff Prayers in the morning, I brought down the parcel of olive leaves from our office. Our staff members gathered, seeking God's help for an exceptionally busy day. One of our organists joined us quietly. Already dressed in her red choir robes, Olive was preparing herself for the first of the five funeral Services due to take place in the Cathedral yesterday. It was my joy to read your passage from Ezekiel and speak about the significance of the olive leaves. A sprig of olive leaves did the rounds (no one had seen any before) for all to touch and admire. And when it came to prayer time, I gave Olive your parcel and asked her to pray for the leaves - others prayed for the funerals, the Memorial Service and our other needs.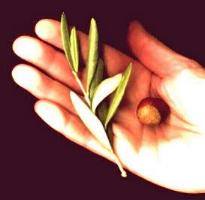 Olive prayed beautifully, for healing and reconciliation and for these leaves to be a blessing to those who would receive them - and she prayed with a firm and steady voice, clearly and audibly. After the end of our little Service, everyone continued to talk about olives and their leaves. We thanked Olive for joining us and our prayers. That was when she told us she had never prayed in public before! Leaves of blessing . . .
We are four members in our Urban Development Team. One of my colleagues, Louise, was in the Cathedral already, the other two were still busy outside. The two of us set out together for Church House, to deliver your parcel for the Service. Church House was one of the houses declared unsafe after the bomb - it had to be inspected before the NCCK staff were allowed back to clear up the damage. By yesterday morning, the shattered windows had been covered with plastic sheeting, much of the debris cleared up, and even some electricity was back. Upstairs, we found the room facing the street with the American Embassy (where one of the NCCK staff had died in the blast), full of sisters, clergy and bishops of many denominations and congregations, dressed in their different colours and each carrying a long-stemmed red rose.
Revd Mutava Musyimi, the General Secretary of the National Council of Churches of Kenya (NCCK), was busy allocating tasks to those who had gathered. When he saw me, huddled at the door together with other latecomers, he called me forward and asked me to explain the provenance and significance of the olive leaves. This, he then told me to do again in Uhuru Park, when the time came.
We walked out in procession, following the crucifer and the robed choirs and the sisters, clergy and bishops in their respective habits and robes. Outside, at that busy roundabout, where the bomb had killed all the passengers in two buses, and so many others, two weeks ago (almost to the hour as I write), the police had stopped all traffic and we crossed in safety, over to the site of the explosion. The US Embassy compound is still sealed off by razor wire, but we were allowed to walk through the outer security zone and around to the back, where Ufundi Co-operative House had stood, until it took the full force of the blast. The whole building has now been cleared away as though it never was, and all that remains is the small pile of rubble that has become a memorial to the victims. We stood in a circle round it, shivering in the grey winter air as the site spoke to us. All around us, the city's work was continuing, there was hammering, traffic, voices - all as it would have been that fateful morning when devastation sought out this little place of ordinary innocent people.
We prayed there, then moved forward one by one to deposit our roses on the memorial and pray for a moment. Meanwhile, the cameramen had climbed another mound of rubble and took their pictures, while the American soldiers looked down at us from the gaping window openings of their Embassy building.
Then, we processed back to the roundabout and forward, singing, for more than a kilometre on one of the busiest Nairobi streets, blocked to traffic as we walked, led by a policeman and the crucifer. This gave us time to look at the other buildings around, glass broken and roof tiles missing everywhere, but the damage being repaired everywhere too, and some people waving to us after a while from buildings that had been sufficiently far away to have survived in restorable order. As we walked, other people joined us. A mother carrying her baby, a huddle of street boys, a group of bystanders, and finally we merged with a stream of worshippers who were making their way to the park, more and more people joining in the hymns as we walked. Arriving at the park, we sat with our other colleagues Kathleen and Lucy, on the dais normally reserved for dignitaries - the first time that we ever were in such splendid positions - and looked at the crowds, steadily building up in front of us, all the way up to the top of the hill. Throughout the Service, the temperature stayed chilly - not a parasol in sight - while the crowd with its many-coloured attire, bit by bit, covered the remaining green of the grass. Everyone was issued with a red ribbon and lapel pin - red is the colour of mourning in Kenya - and the colour of the blood that was spilt by the bomb.
The names of the bomb victims (now 263, two of whom have not yet been identified) were read out in groups of six, alphabetically by letter of their first names - all the Elizabeths, all the Johns, all the Wanjikus together. Lucy Onono's name was there too. After every group of six, we prayed "Lord, have mercy". This was a very moving moment. So many had died - rich and poor together; young and old together; black, brown and white together; people of many faiths and denominations together.
Mutava made sure that representatives of different denominations were involved in the Service. Even the Hindu and Muslim representatives were given opportunities to address the congregation. The sermon was given by the RC Archbishop and Primate of Kenya, the Most Revd Ndingi Mwana 'a Nzeki. There was no sense of outrage, of hatred, of revenge - just grief and suffering and the desire to rise above it.
And then - my turn to speak in front of the biggest crowd I have ever addressed, the television cameras, the radio and a small forest of microphones. For a moment, I prayed as I took it in... Then, I brought your greetings from all around the world, your prayers, your work and your gesture to Nairobi, and some words about the significance of your symbol of healing, peace and reconciliation. I read Revelation 22 : 2. And told the people that the ushers would be distributing the leaves.
It really was like the feeding of the thousands - we sent out six ushers with six baskets of olive leaves, and soon, we could see them walking along the terraces of the hill, serving the leaves to the people for the entire remainder of the Service. The Tanzanian High Commissioner spoke, the US Ambassador spoke, the President of Kenya spoke. The Benediction was given (by a Black American Presbyterian woman priest, married to a Kenyan and ministering here), another hymn was sung, and the crowds stood up to watch the President and some of the other dignitaries leave.
Bit by bit, some of the baskets began to find their way back to us. Louise collected them, one by one, some with a few leaves left. Others arrived where Kathleen and Lucy were standing. Soon, I was the centre of attention for a trickle of people who came and told me they had not received any leaves - did we still have some? Others wanted to know more about the olive leaves and their significance. Amazingly, the cover of the Service programme was adorned with the dove of peace, carrying an olive branch . . . so, we explained some more.
Two women came, saying they had not taken an olive leaf as they first wanted to know its significance. The Service had been conducted in English, which they could not understand... so, Kathleen explained to them in Swahili and answered their questions. Then, satisfied, they held out their hands and asked to be given one each. By now, the leaves in the baskets (which Louise and I had carefully separated from the few remaining twigs) were exhausted. The four sprigs I had kept for our office, for the bomb victims who will now come to us, looking for financial help, were still in the DHL bag, and two of them were separated from their leaves even before we had left the park, as more people came, looking for these symbols of healing and peace. Many Kenyan Bibles will be carrying your Italian leaves of blessing.
Together, we walked back to the office. There, people had heard me speak on national radio (the Service was broadcast live!) and several approached me for the leaves of healing. Finally, four remained.
Meanwhile, in the Cathedral, Lucy Onono's funeral Service had taken place. By the time we returned, the family were seated in the garden by the open coffin, receiving embraces and condolences from a seemingly endless queue of people, while the next funeral service was already in progress within the Cathedral. When the queue got shorter, I joined it, bearing the olive leaves set aside for the family. Mordechai Onono (Lucy's husband) asked for a whole sprig - and received it. Individual leaves to each of the five children. I can still see before my eyes that sad, sad head of Lucy's in the coffin, reconnected to the body which it had left so violently in the blast, and stitched in several places. Dark and lifeless, it looked almost like one of those mummified heads which we sometimes find in European bogs, well preserved after hundreds of years. Surely that face I saw yesterday cannot have much resemblance with the real Lucy, the living, loving mother and wife... In the resurrection, the family knew, Lucy would have a new and beautiful body, so that her outer shell in this earthly life or death would have no more meaning for her.
We are exhausted now. This period of trauma, grief and mourning has taken up a lot of our energy. As I have been writing to you this morning, the actual time of the bomb blast, two weeks ago, has passed. We pray now that God will give us the grace of a new beginning, and the energy to help those who need support at this time. Already, we have heard some horrendous stories...
With so much gratitude, love and prayers for all of you,
Isabelle.

---
Dearestworthiest Isabelle,
Our prayers are with you and for your own healing of memories and with such thanks that you sought and found ways to help heal so many. More olive leaves shall be on their way. One of the most blessed things, I have found, is to give these leaves to heal one's enemies. The Lesson this morning at Terce, read by young, red-haired, just-priested don Bernardo, whose saint's day it was yesterday, was from Romans 12.17-21: 'Do not repay anyone evil for evil . . . Do not be overcome by evil, but overcome evil with good'. He had kept the three hundred and thirty three leaves in his cell in prayer before his icon, until it was time for their blessing and posting to you.

Later Isabelle sent us olive leaves from Kenya, a card of a Madonna and Child, the mother carrying flagons of water as well as her child, and rosary made by Elizabeth Waithera who is Catholic, mother of a daughter and son in Nairobi.
---
In deep gratitude for that very beautiful and meaningful day you enabled us to have yesterday.
In Christ's love, Isabelle.

---
Then Isabelle wrote not only of the bomb in Nairobi, Kenya, but of that in her own country's Omagh, in Ireland. By chance I was to be in Ireland that month, so we set about picking now an enormous bag of olive leaves to take on the plane there, hoping it could be used by all, Catholic and Protestant to give to each other in reconciliation.

---
Dearworthy Godfriends,
Julian, in the best manuscripts witnessing to her actual vocabulary, does not use the word tormented, abused, so much as 'noughted'. Christ is 'noughted' before and by the Crucifixion. The opposite of that word, for Julian, in her vocabulary, is to be 'oned' to God. Christ's agony amongst olive trees in the garden and on the cross is the sense of being 'noughted', by the sleeping, betraying, denying, fleeing Disciples, by his Father's silence, by meaninglessness, instead of that glorious affirming 'oneing' speech at the Baptism, the Transfiguration. Yet he places his spirit trustingly into those hands which created him as in the prayer his mother taught him when he was a child. Perhaps if we see the 'noughting' of souls, minds, bodies, done through acts of war, terrorism, abuse, cancelling out the affirming oneing of souls to parents and God, we can come to understand and then heal damage that is done in these instances? Perhaps that means going through the 'noughting' of Christ, with leaves from Gethsemani, whose olive trees' roots are carbon dated to two thousand years ago, placed into hands trustingly? By 'oneing' with 'noughting' to cross it out? By reaching out with that 'oneing', in the face of 'noughting' and Viktor Frankl's meaninglessness, to friend, neighbour, and, perhaps, especially to foe and enemy.
---
I have an enormous bag of olive leaves now for Dublin! All the children in Montebeni and all the monks and nuns, picking them, as well as myself! A thousand blessings,

---
Dearestworthiest Isabelle,
Declan gave me this e-mail in Dublin Airport and I gave him a huge bagful of leaves, that had been smelling like attar of roses in the plane and having the opposite effect on me than healing! I always did get ill around hop season! He also gave me two Celtic crosses, one which will be for San Sergio, the other for our village church whose children picked so many leaves. The latter mainly Communist, though they were blessed by our don Camillo, who is the Olivetan monk, don Patrizio! I've brought home water from St Bridget's Well in Kilcullen. A thousand blessings,

---
At 14.38 02/09/98 +0300, you wrote:
Dearworthiest Sister Julia,
Welcome to Ireland! Thank you for bearing your gift of olive leaves - may they bring peace and healing to Ireland just as they have done to many in Kenya. I am glad you will be meeting Declan and hope you will get a bit of time together.
Yesterday brought us an envelope with an Italian stamp - the letter had to be from you! Thank you so much for writing to us. And when I opened it - out came your note, your olive leaves and your cheque. It was a wonderful occasion. The first olive leaf went immediately to our organist, Olive, who had prayed for the other parcel when it arrived. She was very touched. And I cannot say how touched we all were about your cheque. You are so good to send us something to help people here - it is very precious to us.
I am not sure how long you will be staying in Ireland. May it be a good stay. May your meetings will be blessed, and a blessing to others. Let me give you this prayer, which my Kenyan colleagues Louise and Kathleen brought last year, when we travelled round Ireland together and visited many of our link churches :
Lord, bless us to be a blessing, fill us to be fountains, use us to be vessels, pour us into the lives of others. Heal us to be a healing, forgive us to forgive. Prosper us to prosper others. Thank you, Lord, for teaching us the joy of generosity, so that we might give to others all that you have given us. Amen.

With love in Christ, Isabelle.

---
Dearworthy Godfriends Declan and Isabelle,
I have given one Celtic peat cross already to the Comunita` dei figli di Dio whose monks and nuns picked olive leaves for you. Tomorrow I give the other cross to the Olivetan monk/parish priest and to all the children in this village who picked olive leaves for you, likely to be kept in our church here. For this region was Christianized a thousand years ago by Irish pilgrim/hermits. I forgot to explain that two Irish Protestant children now living here did the two drawings I put in the bag, which are of the brother and a sister, Saints Andrew and Brigida, who came and evangelized here! Both children's drawings have them, Bibles in hand, preaching away!
The younger Irish brother's drawing of Irish St Bridget and St Andrew preaching from their Bibles in Tuscany. Italy
The older Irish sister's drawing of Irish St Andrew and St Bridget preaching from their Bibles in Tuscany, Italy
Where St Andrew had built his hermitage a thousand years ago, Mary appeared five hundred years later to two little shepherd girls, telling them to tell the Florentines to study their Bibles, and when the children weren't believed, Mary appeared to the grownups telling them to believe the children! Our Irish children are carrying on the fine tradition!
It could help if I could tell all these people who picked them here in Italy how you shared the leaves in Ireland. This is so much about sharing, like the Chinese word for peace, ho-ping, meaning food for all.
The three Catholic nuns in their eighties and sixties had a splendid week together in Ireland, which we called the Julian Summit , and one has now gone home to America, the other back to Italy, both with bottles of St Bridget's Well water from Kilcullen, leaving the third in her peaceful Kildare convent! Odd how the simplest things are the most healing. Blessings and Thankings for the meeting at Dublin Airport.
Julia

---
Dearworthiest Isabelle and Godfriends,
Isabelle's letter has moved me to tears. I've sent a cheque for a 100 pounds but have no more in the coffers to send. I am so touched by the story of Julia below. Please, Isabelle, give her my love!
Another Godfriend has sent important books, Henri J.M. Nouwen, The Wounded Healer, Judith Lewis Herman, Trauma and Recovery: The Aftermath of Violence- From Domestic Abuse to Political Terror, Lenore Terr, Too Scared to Cry: How Trauma Affects Children and Ultimately Us All. These books are now reviewed on the Oliveleaf Website. In line with Anna Freud's work with children in the London bombing (bombing which I experienced as a small child) they seem to be giving clues how to heal in the aftermath of soul, mind, and body wounding/damaging. My friend Leslie Silko, also talked to me about the ways her people tell stories for consolation and healing. We need to pray, too, for Isabelle's own healing from these multiple trauma, in Kenya and Ireland. The other problem is my needing to leave this one room hermitage, at least for a while. I shall be further up into the mountains, in a room at the Santuario della Madonna del Sasso, that began as an Irish pilgrim's hermitage. But there I may lack telephone access. Vows of Poverty, Chastity and Obedience teach one how to do the most with the least, like the simplicity of olive leaves of healing, baptismal water, eucharistic bread and wine. Godfriends may need to go into a silent retreat. If it does, listen to God, the word obedience meaning ob+audire, listening in that silence, then share in the babble after a retreat is over, what the Spirit has wrought amongst us so joyously, so gloriously. The children in my Communist village have been telling me how beautiful Declan Smith's Celtic Cross is, shown them by our Olivetan monk/parish priest.
But strangely we need not your gifts but your giving of our gifts of humble olive leaves to all to give to each other, friend and foe, in Ireland that this bloodshed may cease.

---
At 11.51 19/09/98 +0300, you wrote:
Dearworthiest Sister Julia and Godfriends,
Silence on the electronic networks may not be golden - it may merely be hiding the cacophony going on outside your hearing! There are times when I think, we could not possibly be any busier than we already are - but time and again I have been proved wrong... You have all been wonderfully supportive, and this latest upswing in our efforts and energy could not have been possible without your encouragement, your prayers and your olive leaves for healing.
The story of the olive leaves (the Bible verses, the carbon dating of the Gethsemane roots, the gathering of the leaves by your community, the Sicilian visitors, the children of the Communist village, and the prayers and blessings by so many people) has moved those who receive them and has made out of humble leaves a precious gift, which has made people joyful and given great value to the leaves. I am sure they will stay in people's Bibles, probably at one of the two verses you gave them with, for many years, as a memorial of these terrible times and the friendship which we received from you to overcome the injuries in body, mind and spirit.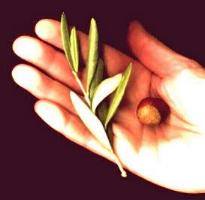 Here in Nairobi, we are still appreciating the second envelope of leaves, which you sent by post. For the past five weeks, the Cathedral members have been collecting funds for the bomb survivors and have so far raised KShs. 210,805, i.e. about Stg. 2,270. Gifts from abroad are also coming in and may eventually match the Cathedral members' contributions.
We have formed a Disaster Committee, which meets every Thursday at noon and takes decisions on applications submitted. Our own Urban Development Team meets the applicants in advance on Tuesday afternoons, so that we may hear their stories, brief the Disaster Committee members, and ask applicants to bring to the interviews whatever supporting documentation may be necessary.
Applicants are coming forward quite slowly. We are therefore able to give them the time they need. There are so many different stories... just some of them, I shall tell you below...
There is Isaac, the promising young man, the computer expert, who worked as computer manager in several big-name companies and went to the US for a postgraduate degree. In January this year, he set up his own computer consultancy company, based in the fated Ufundi Co-operative Building. In June, he was injured in a terrible car accident and kept in hospital for several weeks. One week before the explosion, he resumed work. Many appointments had waited for his return - clients preferred to deal with the boss. One such client was discussing with him at the time of the explosion. Seated closer to the window, he was killed outright. Isaac was severely injured and did not regain consciousness until he awoke in the best hospital of the city, having already undergone an operation, and blind in both eyes... Some days after the operation, he regained the sight of one eye, but cannot see all that well. His head has been injured, and he is taking strong medication while awaiting his next operation. His business has gone, together with the rubble of Ufundi House. His wife had lost her own export business in an unrelated event just a few months earlier. She was the one who had, months before the bomb, brought us those very banana fibre baskets, in which your olive leaves were distributed on the Mount...
Or take another applicant, Beatrice. A Rwandese woman, young still, but aged by life. Mother of eight children - four her own, the other four adopted from various brothers and sisters (her own and her husband's) who died in the Rwanda genocide. The whole family have been allowed to stay in Kenya - their UNHCR status is the safest that I have ever seen. Her husband had started a small business baking mandazi (a kind of doughnut) which he sold to supermarkets in the city centre. He was sitting in one of the two ill fated buses that suffered the full impact of the blast as they turned the roundabout in front of the US Embassy. She now needs school fees for five of the children, and she needs some start-up help to resume her husband's baking business. The Cathedral cannot provide her with all her needs, but she really touched the hearts of the Committee members, and we shall give her the basic school fees, as well as a contribution towards her resuming business.
Another applicant, Sarah, a trained computer secretary, was a young and happy housewife and mother of two small children, while her husband earned their income as a manager in Ufundi Co-operative. He was killed by the bomb... Sarah now has no income. Her home belongs to her father-in-law, who has turned against her - so she needs to find another home, and the money with which to pay the rent, the deposit and the removal of her furniture. She needs to find a childminder, so that she can go out and look for work. The day we saw her, she was on her way to a job interview.
And there is Grace. Grace has not been affected at all by the bomb. But every Sunday, she teaches the children at her local church, and shares this work with another young woman, Julia (so)! Julia was terribly injured in the blast, and we have not yet even seen her. Grace is being a good neighbour - applying to the Cathedral for help, making sure that she gets food and care, that she starts to receive counselling, that she informs her employers of her inability to resume work just yet.
All these applicants have been given olive leaves. We have prayed with them, and we have tried to advise them, as well as helping them to claim assistance from the fund. When we gave a leaf, and your stories, to Grace, she danced round our office in joy. She loved the love and the symbolism expressed in the leaf! And she came back a week later to tell us that Julia (who knows your name, Julia!) had received her leaf with joy too - and that, having received it, she got out of bed for the first time and managed to escort Grace to the house door...
So, receive these stories with our thanks and prayers. You have been so good to us. Your leaves have given strength to us too - strength to find extra time and to work with the people who need us right now.
A separate, but concurrent happening, is a new influx of refugees to our office - from Rwanda, Burundi, Democratic Republic of Congo, Central Africa, Congo-Brazzaville, Sudan, Somalia... we do not have money to help them (except, now and again, by the grace of a friend who might send us a cheque), and their problems can be just as severe as those of the bomb blast survivors. Word has got around that I speak French...
It is a real problem, since only rarely can we help - but every time we do help, more people come... and our "proper" work load is already huge, so that we do not really have the time... it is a terrible dilemma, since we do not want to be harsh with them, and we know that sometimes, we can find solutions... but meanwhile, the stress is huge and the demands on our time almost impossible.
We should appreciate your prayers for this dilemma.
Wishing you God's peace and healing, wherever you might be - and may you too be enabled to spread God's love, through olive leaves or in other ways that bring comfort, encouragement and support.
Isabelle Prondzynski, All Saints' Cathedral, P.O. Box 40539, Nairobi, Kenya

---
At 13.45 28/09/98 +0300, Isabelle wrote:
Dearworthy Sister Julia, Melissa and all Godfriends,
I wonder, Julia, where you might be at present, and what you might be doing. You are so much at the centre of this group of Godfriends that the news of your mountain retreat has driven us to silence...
I cannot but echo Jeannette, when she says that your ministry to Godfriends and others through the Internet continues that of the early monks and nuns, who minister to us even now, through their dedication to the best and finest in quality and materials. You have given the Internet voice to speak to us of angel song, of heavenly choirs, of marbled paper, of icons and illustrations, of Julian and contemplation, of early morning bird-filled walks and of the garden of Gethsemani, of peace and healing. You have added salt and light to our lives. We should be poorer Godfriends without you.
But if you are retreating up the mountain, we wish you peace and joy and a rest from the babble of the internet voices. We wish you a clearer vision of God and a letting-go of your lovely cell for the time of your absence.
Melissa enquired about the rosary tree from Mexico. We have a tree here, called Mubagi in Kukuyu, or Caesalpinia Pulcherrima in Latin. This tree produces brown seeds widely used for lovely necklaces and, to my mind, very suitable for rosaries. Please let me know whether you found the seeds you were looking for, or whether you would perhaps like us to send some of these.
Today's "Irish Emigrant" wrote about the Omagh bomb as follows :
... the body responsible for healthcare in the Omagh area, the Sperrin Lakeland Trust, has released statistics highlighting the human tragedy of the bomb. According to their figures 2,500 people have received medical treatment for problems caused by the bomb. As well as the few hundred people treated at the Tyrone County Hospital in Omagh, a further 2,000 have sought help from their GPs since the explosion. Health officials believe the true scale of the disaster could spill over to future generations. According to Alan Rainey, vice-chairman of Omagh District council, "There are more people who have not sought help yet, but will need it one day".
These are frightening figures. Here too, the number of people affected by the bomb is still growing. Many in this situation are slow to admit their need for help. Even now, almost two months after the bomb, we are receiving new applications every week, but from a surprisingly small number of people. The counsellors, working every day except Sundays, report a steady trickle of people coming to be helped, and we have met many who need counselling but have not gone. Employers can play a big part in encouraging their staff to seek counselling.

Sister Julia - the main reason I wanted to write today, is to let you know that we have finally met with your sister Julia - or Juliana, as her friends call her! She managed to come to the Cathedral and spoke to the Disaster Fund Committee. Her leg is still very painful, and not fully healed. Her head wounds are sore, and her scars require further plastic surgery. She gets dizzy when she walks - but she insisted she had to take the bus on her own, so as not to grow dependant on others' help. A young person, initially quiet, and visibly hurt. Faced with a whole panel of decision-makers. She answered softly, the pain showing in her face. Told us the events of that day, which had caused her such severe injuries. And then, she relaxed - joy shone out of her eyes - she realised she was alive, and that all of us were only there to help her. Within a minute or two, she had made us laugh with her. Through the tears that had gathered in our eyes as we heard her straightforward tale.

An extraordinary person of faith and strength and courage. Her frail and battered body tells the story of God's love and power, and her eyes shone when she talked about her olive leaf. She sends her fondest greetings to you, Julia, and all Godfriends. We felt we had been blessed by her presence among us. God truly speaks powerfully through the suffering and the powerless!

With greetings to all of you Godfriends,

Isabelle.

---
Dearworthy Godfriends,
How moved I was by the story of Julia/Juliana! She really has become my alter ego, as if I gave olive leaves of healing to myself, to my own soul! Here I am always called 'Giuliana', for that is how Italians translate the name of Julian of Norwich, who also seems to have become an alter ego. I found myself at Mass, when the sentence was read about God calling us by our name, realizing He was calling both of us at once, the tears rolling down my cheeks this morning!
On Ireland it is so important there be ceremonies of healing, of caring. I remembered I treasured for years a letter sent from King George VI to each English school child, thanking us for our bravery during the bombing. I lost much of my hearing at six, my brother then 4, in a V2 rocket explosion above our house and somehow that letter made things better, more bearable. That was why if the olive leaves could have been used so in Ireland it could have been good, an acknowledgement by authorities, communal leaders, for ordinary people, innocent bystanders, that there had been suffering and loss. When a mother leaves a hospital when her baby has died or been born dead it is important to put a bunch of flowers in her arms, so that she is carrying something away, a caring, a recognition of loss and pain. Not money, but a symbol of what is lost and of a communal desire that the loss be healed. And it needs to be done very soon after the trauma.
Jeannette Schiff has sent some important books which we review on the Oliveleaf Website, on trauma and recovery, where abuse to children, rape of women, spiritual abuse, political terror, shell shock to combatants in war, victims of natural disaster, death-threatening accidents, are observed to bring about damage to individuals' psyches, a word which means 'soul', PTSD, Post-Trauma Stress Disorder, actually changing the brain's chemistry, with effects ranging from disassociative numbing, to depression, through bipolarity, to multiple personality disorder, or suicide. Understanding how to help bring about soul healing, and how to prevent trauma to souls to begin with, is part of Godfriends' reason for being. On my news service came the following:
Feature: N. Irish peace process eludes town
(Reuters) - While Northern Ireland treads awkwardly toward political stability, a corner of the British province remains gripped by old animosities. On a hilltop at the edge of Portadown, a small knot of pro-British Protestants keep a round-the-clock vigil, determined that one day they will parade through a nearby Catholic Irish enclave where they are not wanted. "This seems to be the only town in Northern Ireland where this is happening," bemoaned a businessman. Weary of turmoil that has made Portadown a byword for sectarianism, the trader lamented: "Everything's peaceful everywhere else."
What would happen if we gave the vigilantes olive leaves!? It was Camel at Rhodes University who reminded us that the olive leaves could be given to friend and foe alike!

Bless you, Isabelle, for what you do!

---
Dear Revd Declan Smith,
It's Julia again, of the prayed over olive leaves. It was God, I believe who put us all together, even if it was also the devil's work of bombs. You see, a group of us came together who had experienced firsthand and devastatingly the trauma of clergy abuse and are dedicated to working with fellow trauma survivors, and have linked up with professionals in psychiatry and social work and law, and are coming to see the symptoms as being the same, whether from bombs, incest, child abuse, clergy abuse, shell shock, etc. For treatment timing is of the essence. I have shared with Godfriends the tragic international news story on Omagh, now into the depression and denial stage, which Isabelle so excellently helped counteract in Nairobi. I'll also post that one on to you. There are different factors however in Kenya and Ireland, Kenya not having experienced repeated bombing. The aetiology of repeated abuse is more severe than is the once only trauma , though that is enough to deeply damage a soul. And following that, an account put together by a member of 'oliveleaf', the discussion list on trauma, because I think it may help you in your ecumenical work in Ireland to heal these trauma. God's servants are good Samaritans binding of the wounds of travelers beaten, robbed and left for dead, with wine and oil and a donkey ride and lodging for the night. I got the donkey ride from you, the lodging at the inn in St Bridget's Kilcullen's Cross and Passion Convent, and am forever grateful to both Anglican and Catholic hospitality in Ireland!
A Thousand Blessings,

---
Date: Sat, 17 Oct 1998 06:24:48
Dearworthy Godfriends,
Bomb-scarred Omagh too sad to toast Nobel prize

OMAGH, Northern Ireland (Reuters) - Relentless rain drowned the bomb-scarred town of Omagh as it learned Friday that John Hume and David Trimble had won the Nobel Peace Prize for bringing peace to Northern Ireland. Grieving, media-weary townsfolk were not in the mood to talk, still stunned by a car bomb that tore Saturday shoppers limb from limb on Market Street on Aug. 15, nearly four months after the peace deal was signed. Hopes have been expressed that Omagh might be the last atrocity in three decades of violence that have cost the lives of 3,600 people in the British province.
Jeannette Schiff has sent us books to review on the effect of trauma, which well describe this closedness and depression that comes about in their wake. It is when something senseless, meaningless, and atrocious happens that humankind cannot bear it and becomes numb and ill and soul-killed. Isabelle Prondzynski acted swifty with a powerful sacramental, symbolical, yet literally tangible, healing with olive leaves which helped many and perhaps too herself in the wake of the Nairobi bombing. But Ireland has lived with one atrocity after another after another for far too long. Ireland of the Sorrows needs to be gathered up under St Bridget's cloak and cherished. Prizes going to people at the top is not healing. Prayers and olive leaves are desperately needed for all.

Italians, where there is a death, send telegrammes saying, in Italian, 'We are neighbouring you, close to you, in your grief'. Can we Godfriends send prayers of 'neighbouring' for these tragic people in their grieving in the hopes that joy may return?

---
Dear Jeannette, Godfriends and Oliveleaf,
Actually my meeting with the bishop is on Monday, around 9:30 a.m. Italian time and I would much appreciate your prayers for it. I am sharing Jeanette's excellent material below on trauma with a wider circle than just oliveleaf and Godfriends because it relates to issues such as the bombings in Nairobi and Omagh. Prayers also for Isabelle Prondzynski and Declan Smith working on these issues. It is crucial that the churches study the effects of trauma for they are in a leading position to heal individuals, groups and nations from these effects. Trauma may arise from bombing, natural disaster, rape, incest, clergy abuse, shell shock, etc. We are back to Viktor Frankl's The Doctor and the Soul , about meaning in life being crucial for happiness, far more than sex or power. And to Victor Turner's The Ritual Process: Structure and Antistructure , of true ritual bringing about 'oneing' to God across all boundaries and frontiers and race and class and gender.
Alan Oldfield, detail, 'Julian's Revelation' in St Gabriel's Chapel, All Hallows, Ditchingham, Suffolk

---
Dearest Julia,
I have captured and copied the basic information from the trauma web site and placed it below. The URL is at the bottom of the post. It does a good job of summarizing what is known. There are many links from this page to others but that can't be perceived in this copied version.
You are very much in my prayers.
Jeannette

---
About Trauma
Traumatic experiences shake the foundations of our beliefs about safety, and shatter our assumptions of trust. Because they are so far outside what we would expect, these events provoke reactions that feel strange and "crazy". Perhaps the most helpful thing I can say here is that even though these reactions are unusual and disturbing, they are typical and expectable. By and large, these are normal responses to abnormal events. This page briefly summarizes some of what we know about traumatic symptoms and responses, and includes links describing PTSD symptoms and coping strategies. There are also other links to more research-oriented issues, such as measuring treatment efficacy, etc. The next page provides additional links to more detailed references and resources helpful in understanding trauma responses and treatment.
Trauma Symptoms. Illustration: The Field Glass (1963) by Rene Magritte
Post-traumatic Stress Disorder (PTSD) is the most common diagnostic category used to describe symptoms arising from emotionally traumatic experience(s). This disorder presumes that the person experienced a traumatic event involving actual or threatened death or injury to themselves or others -- and where they felt fear, helplessness or horror. Three additional symptom clusters, if they persist for more than a month after the traumatic event and cause clinically significant distress or impairment, make up the diagnostic criteria.
The three main symptom clusters in PTSD are: Intrusions, such as flashbacks or nightmares, where the traumatic event is re-experienced. Avoidance, when the person tries to reduce exposure to people or things that might bring on their intrusive symptoms. And Hyperarousal, meaning physiologic signs of increased arousal, such as hyper vigilance or increased startle response. The actual symptoms used in the United States are described in the Diagnostic and Statistical Manual of Mental Disorders, Fourth Edition, published by the American Psychiatric Association (DSM-IV; 1994); they are summarized here. An alternative classification system, the World Health Organization's International Classification of Diseases, or ICD-10, uses a similar but somewhat different symptom summary.
Trauma symptoms are probably adaptive, and originally evolved to help us recognize and avoid other dangerous situations quickly -- before it was too late. Sometimes these symptoms resolve within a few days or weeks of a disturbing experience: Not everyone who experiences a traumatic event will develop PTSD. It is when many symptoms persist for weeks or months, or when they are extreme, that professional help may be indicated. On the other hand, if symptoms persist for several months without treatment, then avoidance can become the best available method to cope with the trauma -- and this strategy interferes with seeking professional help. Postponing needed intervention for a year or more could make the work much more difficult.
While PTSD is the "prototypical" traumatic disorder, some people -- or some stressors -- present variations on this theme. Depression, Anxiety, and Dissociation are three other disorders that may sometimes arise after traumatic experiences, but Somatoform disorders are also seen in some populations. The differences may result from how the particular individual deals with or expresses their stress, and probably depend some on the individual's subjective interpretation of the stress as well. Individual differences affect both the severity and the type of symptoms experienced. For example, almost everyone dissociates to some degree. Dissociation is also a fairly normal coping strategy in the face of overwhelming stress; but at the extreme of this continuum, Dissociative Identity Disorder, or DID (formerly called MPD), is a condition requiring specialized treatment. PTSD is officially classed as an anxiety disorder, but some have argued that it fits more closely with the dissociative disorders, and others feel it belongs by itself. There has also been discussion over differential diagnoses for simple vs. chronic traumatic histories (such as Complex PTSD, or the proposed DESNOS diagnosis: for Disorders of Extreme Stress, not otherwise specified). Classification issues such as these will probably be revived again during field trials for the DSM-V.
Background
We create meaning out of the context in which events occur. Consequently, there is always a strong subjective component in people's responses to traumatic events. This can be seen most clearly in disasters, where a broad cross-section of the population is exposed to objectively the same traumatic experience. Some of the individual differences in susceptibility to PTSD following trauma may stem from prior history and its effect on this subjectivity.
In the "purest" sense, trauma involves exposure to a life-threatening experience. This fits with its phylogenetically old roots in life-or-death issues of survival, and with old brain, (e.g., limbic system) involvement in responses to stress and fear. Yet, many individuals exposed to violations by people or institutions they must depend on or trust also show PTSD-like symptoms -- even if their abuse was not directly life-threatening. Although the mechanisms of this connection to traumatic symptoms are not well understood, it appears that betrayal by someone on whom you depend for survival (as a child on a parent) may produce consequences similar to those from more obviously life-threatening traumas. Examples include some physically or sexually abused children as well as Vietnam veterans. Experience of betrayal trauma may increase the likelihood of psychogenic amnesia, as compared to fear-based trauma. Forgetting may help maintain necessary attachments (e.g., during childhood), improving chances for survival; if so, this has far-reaching theoretical implications for psychological research. Of course, some traumas include elements of betrayal and fear.
As you might expect, multiple or chronic trauma experiences are likely to be more difficult to overcome than most single instances. In other words, risk for PTSD increases with exposure to trauma. Epidemiological estimates suggest that the incidence and lifetime prevalence rates of PTSD in the general population are around 1% and 9%, respectively. But these levels increase markedly for young adults living in inner cities (23%), and for wounded combat veterans (20%). There is also evidence that early traumatic experiences (e.g., during childhood), especially if these are prolonged or repeated, may increase the risk of developing PTSD after traumatic exposure as an adult. Animal studies (see particularly work by Robert Sapolsky and by Joseph LeDoux) suggest the possibility of permanent physical damage to the hippocampus and changes in the amygdala when severe or chronic trauma (and its symptoms) persists; unfortunately, there is no easy way to compare the relative types or degree of trauma across species. There's no clear evidence that susceptibility to PTSD varies for members of different ethnic or minority groups (given a traumatic experience). But individual differences almost certainly play some role. For example, more introverted or shy individuals may have stronger emotional reactions to upsetting events, and young children will have less ability to predict and avoid, or make sense of, such experiences. Children, especially young ones, are apt to see things quite differently than adults; it can be very easy for a stressed-out parent to overlook or fail to recognize a child's fears about such events. If you take time to listen receptively, they'll probably tell you. Bruce Perry has given permission to make two excellent and informative booklets available here; they list clear guidelines written for adults who must work or live with children traumatized by death and summarize the child's experience of grief from a death or other loss. There are also links to other sites specifically concerned with childhood trauma, on Page 6-1.
Several different resources give concise information about characteristic symptoms of PTSD. For example, Matthew J. Friedman has written a c
Secondary Traumatization
One additional aspect of traumatic exposure affects primarily the workers who help trauma and disaster victims. These people include psychologists and other mental health professionals, but also the emergency workers -- EMTs, physicians, fire, police, search & rescue, etc. -- exposed to an overdose of victim suffering. These professions are at-risk for secondary traumatization. Known by various names -- compassion fatigue, secondary or vicarious traumatization, and "burn out", the symptoms here are usually less severe than PTSD-like symptoms experienced by direct victims in a disaster. But they can affect the livelihoods and careers of those with considerable training and experience working with disaster and trauma survivors. Expect this, if you work with or are exposed to the stories of many disaster/trauma victims, and take steps to protect yourself at the first sign of trouble. Basically, there are three risk factors for secondary traumatization: exposure to the stories (or images) of multiple disaster victims, your empathic sensitivity to their suffering, and any unresolved emotional issues that relate (affectively or symbolically) to the suffering seen. Aside from using whatever stress management, stress reduction, or relaxation measures work best for you, there's little an emergency or disaster worker can do about the first two risk factors, but it does help reduce the risk for vicarious traumatization if you know your own personal vulnerabilities and unresolved upsetting issues. Those are the cases best referred to your colleagues, when possible. Beth Stamm has created a wonderful website particularly on Secondary Traumatization that discusses these issues in much greater detail. For many in the at-risk professions, participation in well-run CISD (Critical Incident Stress Debriefing) groups may also help resolve upsetting experiences during the course of emergency work, but brief individual sessions may be needed for 10 - 20% of those suffering the most severe exposures. (There are now several links to articles and references about CISD on Page 4.)
Miscellaneous Issues
The traumatic-stress mailing list, run by Charles Figley PhD since April 1994, has created an international forum for discussion of diverse issues related to emotional trauma. Discussion on this list has been very helpful for me in building a better understanding of trauma response and healing. So far, my posts to this list have concentrated on these topics: a summary of structural equation modeling (SEM) research regarding PTSD, general difficulties and issues in outcome research with trauma populations, problems specific to non-self-report data (such as biological measures) in assessing treatment efficacy for PTSD, empirical evidence supporting my assertion (above) that early traumatic experiences can have long-term consequences, my response to a post asserting "no cure for PTSD", an account of practical considerations affecting informed consent in mental health disaster work, and a summary of list members' recommendations concerning "self-help" books and workbooks for use with trauma clients.
Readings
It was difficult to summarize what we know of trauma responses, as above, without feeling superficial and overly simplistic. To counter that, here are two separate links to reference lists I've collected on this subject; both sets of readings concentrate on research and theory, rather than on clinical issues. The easy list is shorter and fairly accessible, with lots of Scientific American-level articles concerning emotional trauma. For those who want more detailed readings, the longer list contains additional work in this field; I found these articles very important in building my understanding of the underlying mechanisms involved in emotional trauma. You may be able to use your browser to search for specific names or words in these lists; it looks like it will be a while before I figure out how to add form-searchable support. On the next page, you'll find more information about resources in the trauma field, including the traumatic-stress mailing list, searchable online databases, and some full-length articles.
Copyright © 1995-1998 David V. Baldwin, PhD, Eugene, Oregon USA (541) 686 2598, http://www.trauma-pages.com

---
In the material on trauma, it is said that the part of the brain that responds and is affected, is the most primitive part, the limbic region. Our human brains have developed in tandem with our hands, in Hebraism God creating us with His hands. This limbic part of the brain, dealing with terror, may well have to do with man as hunter and with 'nature as red in tooth and claw', the fear of imminent death if one is in error. ['This fits with its phylogenetically old roots in life-or-death issues of survival, and with old brain, (e.g., limbic system) involvement in responses to stress and fear.'] But women have traditionally been gatherers and then gardeners, using hand and brain together, not with weapons, but with baskets and with tools. Perhaps it is that part of the brain that responds when an olive leaf is placed in a palm of a hand?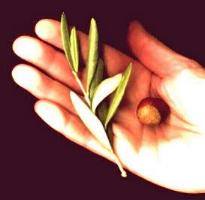 In the Bible who is it who bring provisions in their hands or in baskets? The priest king of Canaan, Melchisadek, brings bread and wine to Abraham. Mary tells the household to obey her son in filling great pottery containers for purification with water - which become wine. A little boy brings, in the New Testament, not David's five smooth pebbles which deliver death to one giant, but five round loaves of bread and two fishes which feed five thousand men, and all those in their families besides, the old, the young, the women and the children who don't count. A hated Samaritan uses oil and wine to bind the wounds of a traveller, and also gives coins to the innkeeper. Women support Jesus and his Disciples out of their sustenance. A fallen woman anoints Christ the 'Christ'. The widows, owning Upper Rooms, provide the feasts held there, at Passover and at Pentecost. Who is generous? The Disciples? Or outsiders and children and women.
The oliveleaf ministry seems to be a children and women's ministry, though we bring the leaves to priests for their blessings. Hunting culture is about territorial imperative and hierarchy. Gathering culture is cooperative, inclusive.
Let me place an olive leaf in the palm of your hand.
Myra Luxmore, 1912

---
Date: Mon, 19 Oct 1998 11:50:02
Dearworthy Godfriends, Oliveleaf,
I haven't heard yet in the Catholic liturgy the use of a lovely saying used seasonally in the new Anglican one, about bringing out old and new treasures. But that is what today has felt like. First Leonid sending us the Canticle of St Sergius in Cyrillic from Moscow via Internet. Then waiting in the Bishop's salone with the parish priest of Santa Brigida, who also has the Santuario della Madonna del Sasso in his parish, and with an Albanian Franciscan, imprisoned for forty years, on the firing line awaiting execution (like Dosteivsky), speaking of his scattered flock, all over Italy, all over Melbourne, Australia, fleeing in every way they can from bitter memories of cruel trauma in Albania. It was a long but joyous wait. A beautiful book on Russian icons to look at - and pray with. I especially love the one of St Anne with the Madonna perched on her knee who holds what seems to be a carnation. Talking of Irish pilgrimages with the parish priest of Santa Brigida, talking of 'oliveleaf' with the Albanian priest - who was forever quoting Augustine. He had been on the firing line, to be shot by the Communists. One quotation I must find, that he who saves another's soul saves his own.
Sant'Andrea and Santa Brigida in Tuscany
Sad, that great art can come of trauma, Dosteivsky's epilepsy and novels, especially 'The Grand Inquisitor', Mozart's Don Juan, Marlowe's Dr. Faustus, the Irish Abbey Theatre, the compulsion to tell and retell the trauma, the soul-loss. Yet to flee the places where the trauma occurred, from Albania to Australia, from Italy to America, not wanting the memories to come unbidden from without, though it may be healing to bring them up from within. Being in control of loss of control. What Coleridge was talking about in the Rime of the Ancient Mariner, the obsessive story-telling of the Wedding Guest. Perhaps at the Marriage Feast of the Lamb there shall be the telling of countless stories of trauma, to which especially those most guilty listen, like Dante's Inferno, until finally a Thousand and One Nights later, there can be healing silence for all. Leslie Silko talks of the healing of the telling of tales in her book, The Storyteller. Julian says all who have God's word in them shall be saved, and that all are created by that word, God despising nothing that he has made.
And all this patient and joyous waiting and learning and listening and telling in a most beautiful room. Unlike the Cardinal's austere one in Florence, where I had first gone, the Bishop's in Fiesole is a delight, all what Italians call 'chiaroscuro' and we call 'trompe d'oeil', three-dimensional marble and gilded sculpted arches and columns and friezes, a nightmare to dust, but which are really flat walls and therefore not needing dusting at all! There must have been an extravagant/penurious bishop in the seventeenth or eighteenth century! Which is rather unusual in Tuscany.
And the Bishop is kind and sad and good. And there is hope. I explained this time I was alone because don Bernardo comes back from Benin in Africa today and therefore could not accompany me and that I'm to go with his brother don Benedetto to Australia in February. The last time in that riot of a room we had met with a group of Sri Lankan and Indian seminarians training in Fiesole. It's one of the networking places throughout the whole globe, and quietly of goodness. I told the Bishop about the Canticle of St Sergius arriving the evening before from Moscow by way of the Internet. And about Kenya and Ireland and olive leaves. And parted with his Blessing, to walk home to Montebeni, to my one book-crowded room, a most beautiful hour long walk above a Florence lost in Autumn mist. We are all so blessed. Even, and perhaps especially, where trauma are being healed through placing God in the first place in our lives. The shy Franciscan Albanian with the terrible story to tell truly lives theology.

---
8 August 2003
And now five years later this book has arrived and the tears trickle down my cheeks. Finally, I can tell the children who plucked those olive branches five years ago in Montebeni the ending of the story - they are now grown, but will be celebrating on 16 August the festival of San Rocco, the pilgrim saint who healed the plague sick until he himself got the plague, living in a forest with his wound, each day a dog bringing him a loaf of bread, who is their patron. It seemed, after Nairobi, everything I had tried to do with blessed oliveleaves came to be blocked. That taking them to Ireland had been futile. Until the arrival today of Petals of Hope. Trying to have a friend in Boulder use Russian olive leaves (which grow in Colorado) for Columbine, but she was too busy. Finding oneself too numbed at the enormity of the Twin Towers, followed by Afghanistan and Iraq, too paralyzed to act. And I moved from the countryside to the city. Mercifully within weeks the gardeners came with four terracotta pots and planted olives in them. I continue to give blessed olive leaves in individual cases, but lack the energy to do it in bulk. They cannot be shipped to America or to Australia. Instead, it has been Fra Angelico postcards and blessed bread for gypsies in Florence. And this article in the Guardian on Omagh and trauma is sad beyond belief. But through all this remains the observation - and conviction - that placing what is natural and humane - not money - in the palm of a hand helps in healing.
n the banks, on both sides of the river, there will grow all kinds of trees for food. Their leaves will not wither nor their fruit fail, but they will bear fresh fruit every month, because the water for them flows from the sanctuary. Their fruit will be for food, and their leaves for healing. Ezekiel 47.12
hen the angel showed me the river of the water of life, bright as crystal, flowing from the throne of God and of the Lamb through the middle of the street of the city. On either side of the river is the tree of life, with its twelve kinds of fruit, producing its fruit every month; and the leaves of the tree are for the healing of the nations. Revelation 22.1-2
We now add, following Istanbul:
he wrongdoers shall be sternly punished. As for those that have faith and do good works, they shall be admitted to gardens watered by running streams, in which, by their Lord's leave, they shall abide for ever. Their greeting shall be: 'Peace!' Koran 14.23


And this Advent morning an envelope filled with olive leaves picked in Ontignano and blessed by the Bishop of Fiesole's Vicar and the Mass for the Poor of the Republic of San Procolo in Florence has been sent with a letter from the Head Rabbi in Florence to Istanbul's grieving Jewish community for them to share with all, Muslim, Christian and Jew. For the healing of the nations.


UMILTA WEBSITE || OLIVELEAF WEBSITE || JULIAN OF NORWICH, TEXT AND CONTEXTS || BIRGITTA OF SWEDEN, REVELATIONES, WEBSITE || CATALOGUE AND PORTFOLIO (HANDCRAFTS, BOOKS ) || BOOK REVIEWS || BIBLIOGRAPHY || FLORIN WEBSITE ©1997-2024 JULIA BOLTON HOLLOWAY


Blessed Olive Branch, Kenyan olive-
wood bowl, William Morris Print

To donate to the restoration by Roma of Florence's formerly abandoned English Cemetery and to its Library click on our Aureo Anello Associazione:'s PayPal button:
THANKYOU!