JULIAN OF NORWICH, HER SHOWING OF LOVE AND ITS CONTEXTS ©1997-2042 JULIA BOLTON HOLLOWAY || JULIAN OF NORWICH || SHOWING OF LOVE || HER TEXTS || HER SELF || ABOUT HER TEXTS || BEFORE JULIAN || HER CONTEMPORARIES || AFTER JULIAN || JULIAN IN OUR TIME || ST BIRGITTA OF SWEDEN || BIBLE AND WOMEN || EQUALLY IN GOD'S IMAGE || MIRROR OF SAINTS || BENEDICTINISM|| THE CLOISTER || ITS SCRIPTORIUM || AMHERST MANUSCRIPT || PRAYER|| CATALOGUE AND PORTFOLIO (HANDCRAFTS, BOOKS ) || BOOK REVIEWS || BIBLIOGRAPHY ||


ST BIRGITTA OF SWEDEN

REVELACIONES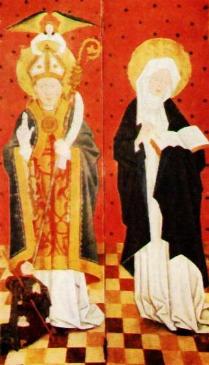 Bishop Hemming and St Birgitta of Sweden, Diptych, Urdialu, Finland
St Birgitta, Revelationes , Autograph Fragment Written in Swedish on Sienese paper, Royal Library, Stockholm, Sweden

EDITED: CARL-GUSTAV UNDHAGEN (I); BIRGER BERGH (II, V, VI, VII); ANN-MARI JÖNSSON (III); HANS AILI (IV, VIII); LENNART HOLLMAN (IX), STEN EKLUND (X-XII); ARNE JÖNSSON (XIII).

TABLE OF CONTENTS:
Books III and VI above are marked with double asterisks * to indicate their printed editions need to be consulted. Hard copy volumes are published by the Royal Academy of Letters, History and Antiquities, Uppsala: Almqvist and Wiksells. For purchasing volumes (not all are still in print) inquire by e-mail to: Almqvist & Wiksells
Book I, Magister Mathias, Prologue; Birgitta of Sweden, Revelaciones I Sweden

Book II, Birgitta of Sweden, Revelaciones II (1492) Sweden

*Book III, Birgitta of Sweden, Revelaciones III (1492) The Book for Priests 1349-1373

Book IV, Birgitta of Sweden, Revelaciones IV Miscellany

Book V, Birgitta of Sweden and Magister Mathias The Book of Questions, Sweden

*Book VI, Birgitta of Sweden, Revelaciones VI (1492) Miscellany

Book VII, Birgitta of Sweden, Revelaciones VII The Book of Pilgrimage 1372-1373

Book VIII, Birgitta of Sweden, Revelaciones VIII (1492) The Book of Politics

Book IX, Birgitta of Sweden, Revelaciones IX Extravagantes

Book X, Birgitta of Sweden, Revelaciones X The Book of the Rule

Book XI, Birgitta of Sweden, Revelaciones XI The Book of the Angel

Book XII, Birgitta of Sweden, Revelaciones XII Four Prayers

Book XIII, Alfonso of Jaén, Epistola Solitarii, Revelaciones XIII Preface to Book VIII

St Birgitta gives Revelationes to Bishop Hermit Alfonso, Woodblock, Ghotan, 1492
Books I, II and V of the Revelationes were written in Sweden with the assistance of Magister Mathias and the approval of Bishop Hemming who took Book I to the Pope in Avignon and to the Kings of England and France in 1347. Book III mainly dates from the Rome period, 1349-73, Book VII from the Holy Land, 1372-73, these later books, apart from the Extravagantes of Book X, were edited by the Spanish Bishop Hermit Alfonso of Jaén. The Extravagantes was compiled in Sweden following Birgitta's death and canonization and included material that was either unavailable to Alfonso or which was too risky for him to include. Book XI, The Book of the Angel, was composed by Birgitta and Magister Petrus Olavi in Rome. All Birgitta's Books are cast in the form of 'Sacred Conversations', where Christ and Mary dialogue with her from the Heavens, or where her patron saints appear to her, such as St Agnes and St Anne, or where an Angel dictates the Offices to her daily. The Norwich Benedictine Cardinal Adam Easton read these books in Norwich at the time Julian of Norwich was composing the Long Text. Alfonso of Jaén's material on the ' Discernment of Spirits ' in the Epistola Solitarii is repeated in Adam Easton's Defensorium Sanctae Birgittae, which effected Birgitta's 1391 canonization, and in Julian of Norwich's Showing of Love and in her conversation with Margery in the Book of Margery Kempe.




Preface by Professor Birger Bergh, Senior Editor, St Birgitta of Sweden, Revelaciones

There is a problem as regards the quality of the text of Books II-III, VI and VIII. In about 1990, when I made a concordance of all the words in the Revelaciones, the primary aim was to get an instrument by which I could judge on textual problems in Revelaciones VI, the critical edition of which I was then preparing. For those books not published in critical editions at the time, the editio princeps was chosen (Lübeck: Ghotan 1492). This means that Books II-III, VI and VIII are not quite reliable. After that, Book III has been published by Dr. Ann-Mari Jönsson in Uppsala. I am preparing the edition of Book II (after my colleague Undhagen's death I have continued his work). Dr. Hans Aili is finishing his edition of Book VIII.

On the other hand I think that the differences between the Ghotan text and the new editions will not be too great. At any rate, I do not think that existing differences will affect the content of the text. Nevertheless, to the extent scholars will base arguments on the text such as it appears on the present files, they will now and then be misled. Perhaps a good solution to the problem is to state that the printed editions should be consulted as far as Books II-III, VI and VIII are concerned, and of these books, Books II and VIII have unfortunately not yet been published.

Birger Bergh





Birgitta writing Birgitta's vision Vision about Birgitta

Return to the Birgitta of Sweden Website

JULIAN OF NORWICH, HER SHOWING OF LOVE AND ITS CONTEXTS ©1997-2024JULIA BOLTON HOLLOWAY || JULIAN OF NORWICH || SHOWING OF LOVE || HER TEXTS || HER SELF || ABOUT HER TEXTS || BEFORE JULIAN || HER CONTEMPORARIES || AFTER JULIAN || JULIAN IN OUR TIME || ST BIRGITTA OF SWEDEN || BIBLE AND WOMEN || EQUALLY IN GOD'S IMAGE || MIRROR OF SAINTS || BENEDICTINISM|| THE CLOISTER || ITS SCRIPTORIUM || AMHERST MANUSCRIPT || PRAYER|| CATALOGUE AND PORTFOLIO (HANDCRAFTS, BOOKS ) || BOOK REVIEWS || BIBLIOGRAPHY ||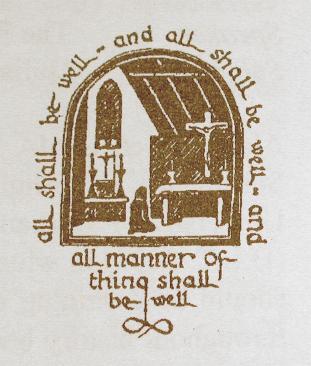 To donate to the restoration by Roma of Florence's formerly abandoned English Cemetery and to its Library click on our Aureo Anello Associazione:'s PayPal button:
THANKYOU!