UMILTA WEBSITE, JULIAN OF NORWICH, HER SHOWING OF LOVE AND ITS CONTEXTS ©1997-2024 JULIA BOLTON HOLLOWAY ||

JULIAN OF NORWICH

|| SHOWING OF LOVE || HER TEXTS || HER SELF || ABOUT HER TEXTS || BEFORE JULIAN || HER CONTEMPORARIES || AFTER JULIAN || JULIAN IN OUR TIME || ST BIRGITTA OF SWEDEN || BIBLE AND WOMEN || EQUALLY IN GOD'S IMAGE || MIRROR OF SAINTS || BENEDICTINISM || THE CLOISTER || ITS SCRIPTORIUM || AMHERST MANUSCRIPT || PRAYER || CATALOGUE AND PORTFOLIO (HANDCRAFTS, BOOKS ) || BOOK REVIEWS || BIBLIOGRAPHY || UKRAINE TRANSLATION || JULIAN PORTAL For Text in Ukrainian:

In Russian: https://paintingvalley.com/ru-julian
'THE CITY AND THE BOOK' VI, SYMPOSIUM ON 'JULIAN OF NORWICH IN CONTEXT', CARROW ABBEY/PRIORY, NORWICH, 11 MAY 2013.
PROCEEDINGS AT HTTP://WWW.UMILTA.NET/JULIANATCARROW.HTML

+
JULIAN OF NORWICH ~


HER 'SHOWING OF LOVE' AND ITS CONTEXTS

INDEX
+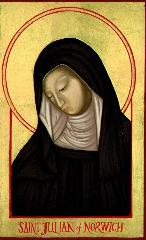 ULIAN OF NORWICH lived in an English cathedral city in the fourteenth, and the beginning of the fifteenth, centuries.

contemplative, she wrote a theological treatise about her Showing of Love that can speak to us today.

he may also have participated in a medieval form of the Internet, called the Friends of God, in which both men and women, across Europe and through time shared their contemplative texts and supported each other in that work of contemplation, hallowing Creator and Creation .

Oliveleaves§ and Hazelnut in Palm of Hand

The Westminster Cathedral Manuscript on the Hazelnut
in the Palm of Julian's Hand, that I have held in my hands
in Westminster Cathedral and Westminster Abbey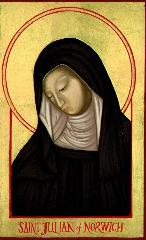 Father Nathanael, Icon of Julian of Norwich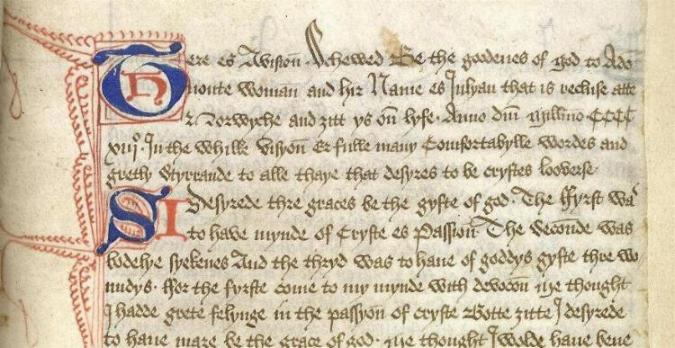 British Library, Amherst Manuscript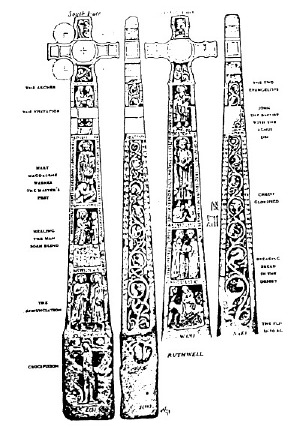 The Ruthwell Cross, Scotland

St Birgitta's Pilgrim Bowl in Birchwood inscribed in Cyrillic, Held in my Hands at Altomunster, Bavaria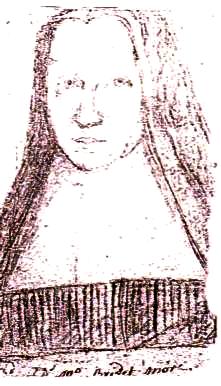 Dame Bridget More, O.S.B., Copyist of Julian, Descendant of St Thomas More, Colwich Abbey

Julian of Norwich, © Sculpture by Connie Cook, Pamphlet by Community of the Resurrection
Shop Handcrafts, Books/Booklets
Book Reviews General/Scholar
Bibliography Scholar

e-books on this Website
Julian of Norwich, The Showing of Love
Birgitta of Sweden, Revelationes
Catherine of Siena, The Orcherd of Syon
Miriam and Aaron: The Bible and Women
Equally in God's Image: Women in the Middle Ages
Sweet New Style: Essays on Brunetto Latino, Dante Alighieri and Geoffrey Chaucer
Nicolas of Lyra, Postilla super totam Bibliam in pdf files
Jarena Lee, Religious Experience and Journal
Rose Lloyds, An English Rose
Etc.

For Mediatheca 'Fioretta Mazzei' library holdings on Julian of Norwich and other contemplatives, see http://www.florin.ms/libgimel.html. The library is housed in the 'English' Cemetery, P.le Donatello, 38, 50132 FIRENZE, ITALY and one may become a member and reader through the gift to it of a book a year.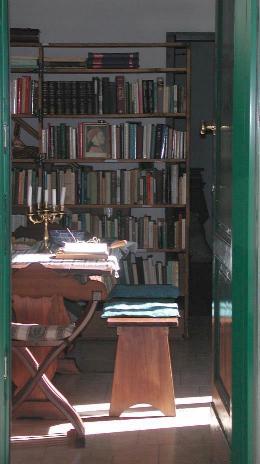 he 'Julian of Norwich Showing of Love and Its Contexts' Website is an electronic version of a portfolio of pamphlets created for a series of lectures given to Quakers on Medieval Mystics in an Anglican convent. The essays are intended for everyone, everywhere. They are available on the Internet and,

where asterisked, also as printed and hand-sewn booklets, as fascicles in Florentine bound portfolios, like those produced by the nuns in exile who were preserving Julian's texts at the Reformation, as well as on this CD. These asterisked titles in hard copy may give coloured tipped-on plates, or photocopies of manuscripts, or the original Hebrew, Greek, Runes or Middle English, of material that is not accessible to the Web for copyright or technical reasons. It is especially advisable for libraries with women's studies holdings to purchase the Julian Library Portfolio as it includes autograph facsimiles of texts written by women. Titles underlined in colour are hyperlinked and their essays can be called up by clicking on them. Those followed by are external links, needing an internet connection to call them up. (Links in Icelandic are called 'tenglar', knots, tangles.) You are encouraged to link to, print out, save and use any of the online materials listed here, if you courteously cite the source (not to do so is plagiary); with the exception of illustrative materials for which copyright may need to be renegotiated. Contact Julia Holloway

Julia Bolton Holloway
Hermit of the Holy Family
Mediatheca Fioretta Mazzei
'English' Cemetery
Piazzale Donatello 38
50132 FIRENZE
ITALY

on exchanging links or copyright permissions.

To join the Friends of Julian, contact the Julian Centre, Rouen Road, Norwich, U.K. https://julianofnorwich.org/


To join the Julian Meetings contact http://www.julianmeetings.org/

Simone Martini, Diptych, Museo Horne, Florence; © Editrice Giusti de Becocci, SRL, Italy


Sister Anna Maria Reynolds C.P. was the greatest editor Julian ever had.
During WWII she transcribed the extant microfilms with a microscope,
a word at a time, for her Leeds University MA and Ph.D. theses. Subsequent
editions plagiarized her meticulous work. In her nineties, blind, frail, she
created a fine CD in which she discussed Julian with total recall of the text.

And Father Nathanael Smyth of Beloved Memory
whose icon of 'Saint Julian of Norwich' expresses her
Benedictinism.



Pope Benedict XVI spoke on Julian of Norwich at the Papal Audience, 1 December 2010 http://www.vatican.va/holy_father/benedict_xvi/audiences/2010/documents/hf_ben-xvi_aud_20101201_it.html#


See http://www.norfolkchurches.co.uk/norwichjulian/norwichjulian.htm for more.

Indices to Umiltà Website's Essays on Julian:

Preface
Influences on Julian
Her Self
Her Contemporaries
Her Manuscript Texts ♫ with recorded readings of them
About Her Manuscript Texts
After Julian, Her Editors
Julian in our Day

Publications related to Julian:


Saint Bride and Her Book: Birgitta of Sweden's Revelations Translated from Latin and Middle English with Introduction, Notes and Interpretative Essay. Focus Library of Medieval Women. Series Editor, Jane Chance. xv + 164 pp. Revised, republished, Boydell and Brewer, 1997. Republished, Boydell and Brewer, 2000. ISBN 0-941051-18-8
To see an example of a page inside with parallel text in Middle English and Modern English, variants and explanatory notes, click here. Index to this book at http://www.umilta.net/julsismelindex.html
Julian of Norwich. Showing of Love: Extant Texts and Translation. Edited. Sister Anna Maria Reynolds, C.P. and Julia Bolton Holloway. Florence: SISMEL Edizioni del Galluzzo (Click on British flag, enter 'Julian of Norwich' in search box), 2001. Biblioteche e Archivi 8. XIV + 848 pp. ISBN 88-8450-095-8.


To see inside this book, where God's words are in red, Julian's in black, her editor's in grey, click here.
Julian of Norwich. Showing of Love. Translated, Julia Bolton Holloway. Collegeville: Liturgical Press; London; Darton, Longman and Todd, 2003. Amazon ISBN 0-8146-5169-0/ ISBN 023252503X. xxxiv + 133 pp. Index.

To view sample copies, actual size, click here.

Julian of Norwich, Showing of Love, Westminster Text, translated into Modern English, set in William Morris typefont, hand bound with marbled paper end papers within vellum or marbled paper covers, in limited, signed edition. A similar version available in Italian translation. To order, click here.




'Colections' by an English Nun in Exile: Bibliothèque Mazarine 1202. Ed. Julia Bolton Holloway, Hermit of the Holy Family. Analecta Cartusiana 119:26. Eds. James Hogg, Alain Girard, Daniel Le Blévec. Salzburg: Institut für Anglistik und Amerikanistik Universität Salzburg, 2006.
Anchoress and Cardinal: Julian of Norwich and Adam Easton OSB. Analecta Cartusiana 35:20 Spiritualität Heute und Gestern. Salzburg: Institut für Anglistik und Amerikanistik Universität Salzburg, 2008. ISBN 978-3-902649-01-0. ix + 399 pp. Index. Plates.

Teresa Morris. Julian of Norwich: A Comprehensive Bibliography and Handbook. Preface, Julia Bolton Holloway. Lewiston: Edwin Mellen Press, 2010. x + 310 pp. ISBN-13: 978-0-7734-3678-7; ISBN-10: 0-7734-3678-2. Maps. Index.

Fr Brendan Pelphrey. Lo, How I Love Thee: Divine Love in Julian of Norwich. Ed. Julia Bolton Holloway. Amazon, 2013. ISBN 978-1470198299

Julian among the Books: Julian of Norwich's Theological Library. Newcastle upon Tyne: Cambridge Scholars Publishing, 2016. xxi + 328 pp. VII Plates, 59 Figures. ISBN (10): 1-4438-8894-X, ISBN (13) 978-1-4438-8894-3.


Mary's Dowry; An Anthology of Pilgrim and Contemplative Writings/ La Dote di Maria:Antologie di Testi di Pellegrine e Contemplativi. Traduzione di Gabriella Del Lungo Camiciotto. Testo a fronte, inglese/italiano. Analecta Cartusiana 35:21 Spiritualität Heute und Gestern. Salzburg: Institut für Anglistik und Amerikanistik Universität Salzburg, 2017. ISBN 978-3-903185-07-4. ix + 484 pp.

To donate to the restoration by Roma of Florence's formerly abandoned English Cemetery and to its Library click on our Aureo Anello Associazione:'s PayPal button:
THANKYOU!


JULIAN OF NORWICH, HER SHOWING OF LOVE AND ITS CONTEXTS ©1997-2024 JULIA BOLTON HOLLOWAY || JULIAN OF NORWICH || SHOWING OF LOVE || HER TEXTS || HER SELF || ABOUT HER TEXTS || BEFORE JULIAN || HER CONTEMPORARIES || AFTER JULIAN || JULIAN IN OUR TIME || ST BIRGITTA OF SWEDEN || BIBLE AND WOMEN || EQUALLY IN GOD'S IMAGE || MIRROR OF SAINTS || BENEDICTINISM || THE CLOISTER || ITS SCRIPTORIUM || AMHERST MANUSCRIPT || PRAYER || CATALOGUE AND PORTFOLIO (HANDCRAFTS, BOOKS ) || BOOK REVIEWS || BIBLIOGRAPHY ||

UMILTA WEBSITE, JULIAN OF NORWICH, HER SHOWING OF LOVE AND ITS CONTEXTS ©11997-2024 JULIA BOLTON HOLLOWAY || JULIAN OF NORWICH || SHOWING OF LOVE || HER TEXTS || HER SELF || ABOUT HER TEXTS || BEFORE JULIAN || HER CONTEMPORARIES || AFTER JULIAN || JULIAN IN OUR TIME || ST BIRGITTA OF SWEDEN || BIBLE AND WOMEN || EQUALLY IN GOD'S IMAGE || MIRROR OF SAINTS || BENEDICTINISM || THE CLOISTER || ITS SCRIPTORIUM || AMHERST MANUSCRIPT || PRAYER || CATALOGUE AND PORTFOLIO (HANDCRAFTS, BOOKS ) || BOOK REVIEWS || BIBLIOGRAPHY ||