JULIAN OF NORWICH, HER SHOWING OF LOVE AND ITS CONTEXTS ©1997-2024 JULIA BOLTON HOLLOWAY | || JULIAN OF NORWICH || SHOWING OF LOVE || HER TEXTS || HER SELF || ABOUT HER TEXTS || BEFORE JULIAN || HER CONTEMPORARIES || AFTER JULIAN || JULIAN IN OUR TIME || ST BIRGITTA OF SWEDEN || BIBLE AND WOMEN || EQUALLY IN GOD'S IMAGE || MIRROR OF SAINTS || BENEDICTINISM || THE CLOISTER || ITS SCRIPTORIUM || AMHERST MANUSCRIPT || PRAYER || CATALOGUE AND PORTFOLIO (HANDCRAFTS, BOOKS ) || BOOK REVIEWS || BIBLIOGRAPHY || Terence through Time Website, 1999/2017 Julia Bolton Holloway



EURIPIDES' TROJAN WOMEN

WAR AND PEACE, TEXTS AND CONTEXTS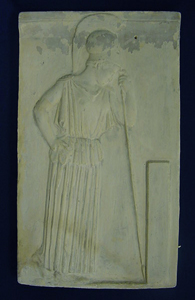 Athena mourning on a grave stele
I. The Text Itself
uripides, though not a feminist, sees women as tragic, gets inside women in his character studies - the way James Joyce does with Molly Bloom - and interacts with reality from that tragic perspective. This play, the Trojan Women, the Troades, is a play that primarily takes place through the consciousness of Hecuba, and through her daughters and daughters-in-law, through Polixena and Cassandra, through Helena and Andromache. The child - Astyanax - is still a part of their gynaecaeum. It is their cat's cradle in its structure.
Poseidon's speech, which opens the play, first speaks of creating, the Nereids dancing, weaving together a beauteous art form, the city of Troy a'building, the shaping of the Wooden Horse, Poseidon's own well-wrought poetic speech, all these are of techne, artifice. Then that beauty becomes blighted, Poseidon being overborne by Hera and Athena, and Troy is to be made desolate by the Hellenes. The cat's cradle is tangled, useless.
Greek uses two words for children, sons and daughters, techna and paide, the one meaning 'wrought', the other relating to play, education, pediatrics. Poseidon then speaks of the peace-weaving between himself and Athena, who in turn is angered by the Greeks who were her allies, because of their violation of her temple in Troy. She agrees with Poseidon to pursue the home-returning Greeks with dreadful storm. Both Poseidon and Athena are angered at the Greeks' violation of sacred structures. Thus this play is pro-Trojan, as pro-Trojan as will Virgil and his Aeneid be. It is a condemnation of Greece by a Greek. It is self-criticism. It fashions piety.
The grieving, sleeping Hecuba then wakes - venting her emotion about her city, of which she is a figura, a personification - as if it were a proud, full-sailed ship (a line that will be echoed by Elizabethan poets writing of each others' poetry and the Spanish Armada), brought low, her musical dance jangled to cacaphony. Her grief is reflected in that of the Chorus of Trojan female captives who speak of no longer weaving at their Trojan looms, who speak of mourning their dead husbands and sons, who speak of being thralls at the couches of Greeks. Talthybius, the well-mannered Herald of the Greeks, spells out gradually the decisions of the Greeks, that Hecuba will be dragged into slavery, that Cassandra will be Agamemnon's concubine, that Polyxena has been murdered over Achilles' grave, that Andromache must go into bondage, her child Astyanax to be hurled from the walls ofTroy.
It is interesting that in this speech and elsewhere the virgin Cassandra is spoken of as a Bacchante, a woman who has seized power for herself from the men, like an Amazon, refusing to partake of the normative Greek hierarchies. We remember that Greek plays were themselves, in their questioning and probing of society's hypocrisies, under the upsetting aegis of Dionysius, Bacchus. Cassandra speaks out against Helena and also plots Agamemnon's death.
Hecuba rhythmically returns to her grieving, letting it be known piecemeal the full horror of her experience, that she has witnessed the death of Priam, her husband, at the very altar stone, had her virgin daughters snatched from her very arms, seen her sons die, and that she knows she is now a slave.
Each character helps shape the whole, each speaking of all the others, weaving together a dance and a tapestry of grief. It is Andromache who finally tells Hecuba the full meaning of Talthybius' veiled, diplomatic words, that Polyxena lies slaughtered over Achilles' tomb. Andromache, as she speaks, holds the baby Astyanax in her arms. We recall that child shrieking in fear at his father's plumed war helmet in the Iliad. We will meet that boy again, brought back dead, his tiny body dwarfed within his father's huge shield.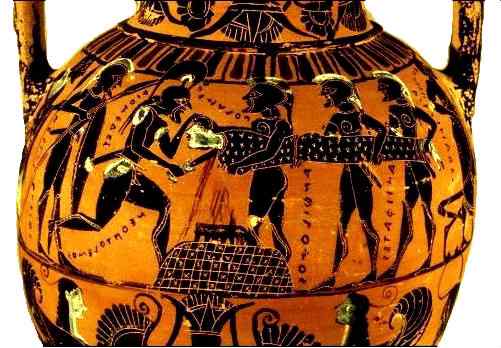 Death of Polyxena
In between those two scenes Menelaus and Helena take the stage. Helena is blamed for the tragedy. Helena pleads that Aphrodite, Venus, the goddess of love, be the one punished, not all the others, for she has made them do it. Hecuba draws her short, telling her not to blame the gods for the sin she herself commits. That line echoes the opening discourse by Zeus in the Odyssey.
The final agony of the play, after the chorus has bemoaned their unwashed, unburied husbands' corpses, is the Pietà of the grandmother, Hecuba, who has outlived her children's and her grandson's lives. She speaks out against the impious Greeks, the unethical Greeks, who have murdered a mere child.
That scene will be echoed in the full-sailed verse of Shakespeare's King Lear, where the aged father carries his young daughter's corpse on stage, howling at the injustice of such a world as could have committed such an atrocity. In the natural cycle of life and death, in peacetime, it is the children who bury their parents; in unnatural, man-made war it is the parents who are forbidden to bury the corpses of their wrongfully-killed progeny. The world is turned upside-down, filled with tragedy, impious, unethical, terrible.
II. The Text as Mirror
In the Humanities today there is censorship. We are meant now to be like scientists, approaching these texts in white laboratory coats, handling them through glove boxes, as if they were in sterile vacuums - as if they had no relevance to our own lives, as if they were no longer the shapers of our values, - and as if they were highly dangerous. Like the processed plutonium at Rocky Flats.
These plays were not, however, written by Aeschylus or Euripides or Aristophanes or Shakespeare to be read in that manner. They were meant to speak to their own time and to all time about the most crucial concerns of civilization. The Greeks, in a time of war, were exploring a far more ancient war, that of Troy, as if holding up a mirror to themselves, a mirror in which they might glimpse wisdom and truth, stripping away from themselves a deadly hypocrisy.
The Greeks were a male-dominant society. but their drama spoke in feminist terms to themselves. The Greeks were a martial society, but their plays spoke to themselves about ethical issues of war and peace. The Greek theatre practiced academic freedom. I am not always sure our universities can.
The Troades is not the only play to broach the issue. Aeschylus' Agamemnon shows us how the Greeks considered war as polluting, damaging the victor as well as the vanquished, the victor needing ritual cleansing, and even then that not being enough to cleanse the blood guilt from him. Already, in that play, Aeschylus had had his Chorus give a most bitter speech about urns filled with the ashes of young men, the Greek version of the Vietnam green plastic body bags. Here it is:
For War's a banker, flesh his gold.
There by the furnace of Troy's field,
Where thrust meets thrust, he sits to hold
His scale, and watch the spear-point sway;
And back to waiting homes he sends
Slag from the ore, a little dust
To drain hot tears from hearts of friends;
Good measure, safely stored and sealed
In a convenient jar - the just
Price for the man they sent away.
In Aeschylus' Agamemnon and in Euripides' Iphigenia we see not only how the Trojan women suffer from this war but also how the Greek women had to make sacrifices and were themselves thoughtlessly sacrificed by the war lust which holds their male society in its grip. How did the Greeks rationalise their going to war, how do men today rationalize their war-going? Usually the argument is that it is to protect women and children. Is it? Does it? The answer from these plays is that war most endangers the women and children, the defenceless, who are caught up in its toils without their consent.

I used to observe the convention, when teaching, of not speaking about my pacifism. I had been well-schooled during the MaCarthy era. I unlearned that schooling at Princeton when, during the Vietnam War, I received a form from the United States Marines for a recommendation for one of my students. Its major question was whether I considered the student in question as suitable for protecting my wife and children, my family, from the nation's enemy. Now my husband, my sons' father, never supported or protected us, either in war or peace. Indeed we feared for our lives from him. I thought long and hard about my response, then wrote back saying I did not want my answer in any way to count against my student, but that I considered it unethical for a professor to ask a student to lose his life, to kill or be killed, that I could not be party to such murder.

Princeton marks with a large bronze star each dormitory window of a room where a student had lived who had then died tragically young in the defense of his nation. When I was teaching there they were still chiseling upon the marble wall of Nassau Hall the names of students who had died in Vietnam and been brought back in green plastic body bags. What I considered obscene, others considered glorious. I was female, a mother, they were male. I was the Bacchante questioning the system - and I did not get tenure.

Just War should be fought between consenting male adults - as a game, like chess. In Homer's era war was fought in hand-to-hand combat between male armies upon a battlefield. After it was over, the women of the losing side were enslaved, the old men and children put to the sword. Anglo-Saxon women embroidering the Bayeux Tapestry for their male Norman conquerors courageously showed that brutality.

But today, even during the waging of war, the noncombatant population is usually subject to war's murder. Britain began the bombing of German civilians - and Germany retaliated by bombing British civilians. I was six years old, my brother four, when we lost our hearing in a V2 rocket explosion in England. Statistically war has become bloodier than it was in the past. In World War II about 48% of the casualties were civilians; in the Korean War, 84%; in the Vietnam War, 90%. The Catholic Bishops' Pastoral Letter argues that we cannot wage nuclear war because it inevitably affects the civilian population. Their argument should equally be applied to modern conventional warfare in Central America and elsewhere. It is a religious, moral and ethical duty to apply the insights the Greeks themselves had, that medieval Catholic teaching had, that the Nuremberg Principles set forth, for the sake of humanity and civilization.

III. Tragedies and Comedies

Lear, Shakespeare's King Lear, always threatens to be a comedy rather than a tragedy. It ended happily in Geoffrey of Monmouth's original account. It ended happily again in Nahum Tate's Restoration version of the play. The Greeks themselves had comic counterparts to Aeschylus' and Euripides' grim tragedies - and their comic counterparts set these plays into their present moment in time and history, rather than distancing and censoring their tales into the safety of a dim past. We are all familiar with Aristophanes' Lysistrata.

I loved and hated that, at the same time that the names of the dead in Vietnam were still being chiseled into the marble at Princeton, a woman student was producing Lysistrata there. Later, I asked Lucy Walker, the black woman Director of Denver's Eden Theatrical Workshop, to re-produce Lysistrata for the University of Colorado at Boulder. We little knew then that the next semester would be the Gulf War.

But I would like to speak about a rather neglected comedy of Aristophanes, one which we have been too Victorian and prudish to accept into our canon. It is the Eirene, the Peace. It has an unmentionable beginning, all about a dung beatle who has to fly to the gods to consult with them about war and peace. You see, the first thing to do about war and its trappings, the Greeks knew, is to strip it of its pretensions and its false dignity, to laugh at it.

A wonderful debate will ensue between War, Polemos, and Peace, Eirene, but first everyone has to work very hard at pulling Peace forth, though some shirk at the task. War is already on the rampage, setting Greeks against Greeks all over the map.

The sword and the spear makers are naturally upset about Peace coming because their profits will drop but the pruning hook and ploughmakers are delighted. The farmers rejoice while the soldiers sorrow. The spears will later be sold for vine props. The play even laughingly condemns the plays of Euripides and the sculptures of Phidias as being war-centered, rather than peace-causing.

The feast ensues and the play speaks of the wolf and the lamb lying down together. It echoes Isaiah and Micah on peace. The Chinese word for Peace is Ho-Ping, an ideogram which also means 'Food for All'. Like the Horsemen of the Apocalpyse, famine, hunger, plague and war go hand in hand.

In the midst of the feasting, at the end of the Eirene, a child begins to recite war poetry; the elders, with laughter, correct his lines, changing them into poetry for peace.

I remember Melina Mercouri's role in Never on Sunday. Her friends dragged her off to the theatre in modern Athens to see an ancient tragedy. At first she wept, then she laughed. Why? In her mind she had changed the tragedy into a comedy, where no one killed anyone, where they married and went off to the seashore and lived happily ever after.

The first production of the Trojan Women ushered in a disastrous war; that of the Eirene heralded fifty years of peace. Let us choose, in this dialectic of war and peace, not Polemos, War, but Eirene, Peace, and her plentiful harvesting, her banquets, her laughter and her well-wrought dancing, her urns containing not the ashes of young men, but instead the good wine of Bacchus, her silos being filled with golden corn and wheat, not weapons. Such peaceable bread and wine and laughter and song are the greatest wealth any civilization can obtain. We don't need dust and ashes. Choose comedy. Choose freedom. Choose peace. We'll have to really pull together to get her.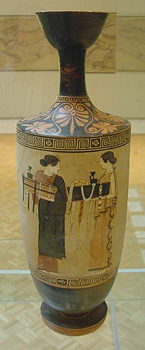 Women with Funerary Gifts

Note
I taught in the Center for Interdisciplinary Studies at the University of Colorado at Boulder. Under its aegis were such programs as Humanities, Comparative Literature, Conflict and Peace Studies, Black Studies, East Asian Studies. Several times we mounted conferences on issues of war and peace. This paper was presented at one such conference, in conjunction with the performance of Euripides' Trojan Women, in 1984.
---
Then there was a second war in Iraq:

Sumerian Harp, 2500 B.C.

Ur Standard, 2700 B.C., Peace

Ur Standard, War

JULIAN OF NORWICH, HER SHOWING OF LOVE AND ITS CONTEXTS ©1997-2024 JULIA BOLTON HOLLOWAY | || JULIAN OF NORWICH || SHOWING OF LOVE || HER TEXTS || HER SELF || ABOUT HER TEXTS || BEFORE JULIAN || HER CONTEMPORARIES || AFTER JULIAN || JULIAN IN OUR TIME || ST BIRGITTA OF SWEDEN || BIBLE AND WOMEN || EQUALLY IN GOD'S IMAGE || MIRROR OF SAINTS || BENEDICTINISM || THE CLOISTER || ITS SCRIPTORIUM || AMHERST MANUSCRIPT || PRAYER || CATALOGUE AND PORTFOLIO (HANDCRAFTS, BOOKS ) || BOOK REVIEWS || BIBLIOGRAPHY ||

To donate to the restoration by Roma of Florence's formerly abandoned English Cemetery and to its Library click on our Aureo Anello Associazione:'s PayPal button:
THANKYOU!