UMILTA WEBSITE || OLIVELEAF WEBSITE || JULIAN OF NORWICH, TEXT AND CONTEXTS || BIRGITTA OF SWEDEN, REVELATIONES, WEBSITE || CATALOGUE AND PORTFOLIO (HANDCRAFTS, BOOKS ) || BOOK REVIEWS || BIBLIOGRAPHY || FLORIN WEBSITE ©1997-2024 JULIA BOLTON HOLLOWAY




HOW TO MAKE CRADLES

AND LIBRARIES



Was dedicated to my three beloved sons, two of whom now lost. With thanks to Maria Francesca Gallifanti for the first three images of cradles, from the Ukraine, Rhodes, and Palestine.




I used to accept Heloise's desperate plea to Abelard that scholars and babies, books and cradles, pens and distaves, do not mix. I now believe they can. In our library, that I built, I make cradles, too. I also remember the line in one of my mother's books, on Austrian women, that the hand that rocks the cradle is the hand that rules the world. What changed my mind was Hedera. Hedera is Rom from Romania, who has had two babies born here in Florence. Soon after the second was born I took her and her baby and her husband in and they slept in my cell for a week, following the baptism of little Leonardo in that cell. I had already made a cradle for Hedera, modeled on those I saw in the Rom camps, but a cradle is not possible when one can only live in the streets, the Orthodox gypsies not being allowed in the Moslem gypsy camps. Next, the Romanian gypsies were rounded up by the Italian police and forced to return to Romania. So now I make cradles to sell them to benefit Hedera and her three children, and indeed all the twelve children living with her mother and father in a camp in Buzau.

Hedera constantly nurses her baby, and often swaddles him, and holds him, and rocks him, and sings to him, beautiful songs like the one where she liltingly repeats again and again 'Alleluia'. Hedera never went to school, has no alphabet, but is wonderfully intelligent. Leonardo is always calm. The kind of baby a scholar can live with and delight in. Hedera raises Leonardo as babies should be raised in order to be peaceable and happy. She keeps him immaculately clean, carefully washing all his garments, drying them in the sunlight on hedges. I am now teaching her how to do the same with cloth nappies, cloth diapers, because disposable and carcinogenic and non-biodegradable ones in Romania cost thirty euro a package and she needs that money instead for food for the twelve children. In this way her work of laundering is earning rather than spending, saving not wasting, gaining not losing. I have bought these from a farm in Cornwall who in turn have imported them from China and had these sent to her in Romania. And I will now send an unassembled cradle to her with the screws that it needs to put it back together so Leonardo can be rocked to sleep beside her while she launders his clothes and smiles at him.

This is my first Rom rocking cradle:
__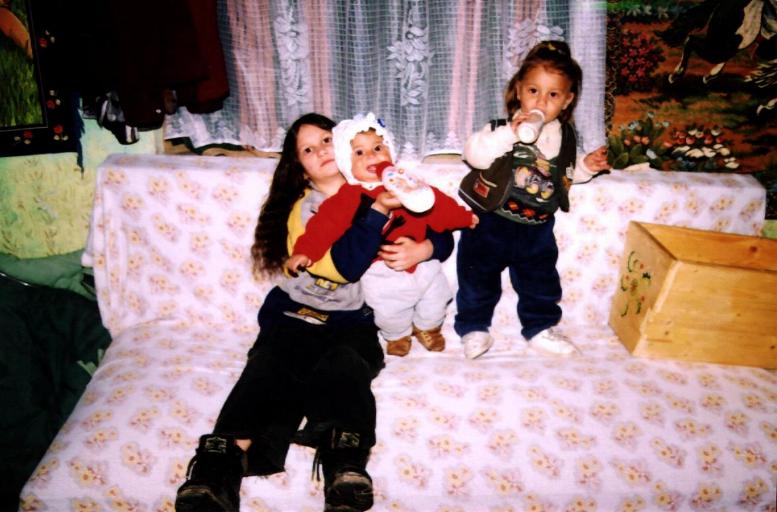 CRADLE IN FLORENCE CRADLE IN ROMANIA

I made it out of scraps of wood I found in the street or was given, only finally buying the rockers specially made, because the doorwood I had used for them was not sturdy enough. Now I am making five cradles out of new bought wood.
These are the sides. Make them larger than I did as my cradles were really too small except for new-born gypsy babies. I would suggest changing the measurements of 70 for the sides and 65.5 for the bottom to 85 or 90 for the sides and 80.5 or 85.5 for the bottom.:
These are the feet to the five cradles, base 22 centimetres, top 33 centimetres, which can be cut so as not to waste wood:
I paint these and the hoods with a design from a fresco in the Roman house of the Cardinal Bessarione. He was the Orthodox scholar at the Council of Florence, when Roman Catholicism and Greek Orthodoxy briefly reconciled. A fitting design for the cradle of a Romanian Orthodox baby born in Florence, Italy. The Fibonacci curves of the vegetation has one's hand and one's eye correspond to their roundness, eschewing square rigid boxes of metal and plastic, but instead being of flowers, fruit, and flourishing leaves. The cradle itself is all curves, like the human body: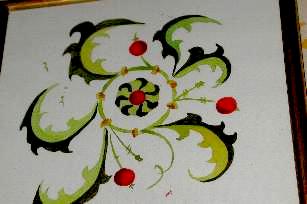 These are the rockers and the head board, the head boards measuring 21 centimetres at the bottom, 33 across the widest part, 50 centimetres from bottom to top. The head board needs to be like the foot board except rounded at the top.
And the hood pieces, made of thin and pliable plywood measuring 110 x 17 centimetres, where I haven't finished painting the designs: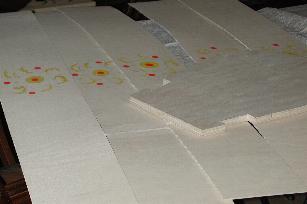 When I finish sawing all the pieces I have almost no wood left over, just some triangles, some oblongs, some roundels, all ideal for giving to children with pieces of sandpaper so they can make from them building blocks to play with and as gifts to their younger sisters and brothers.
These are the rough specifications, but in Italian, measured in centimetres: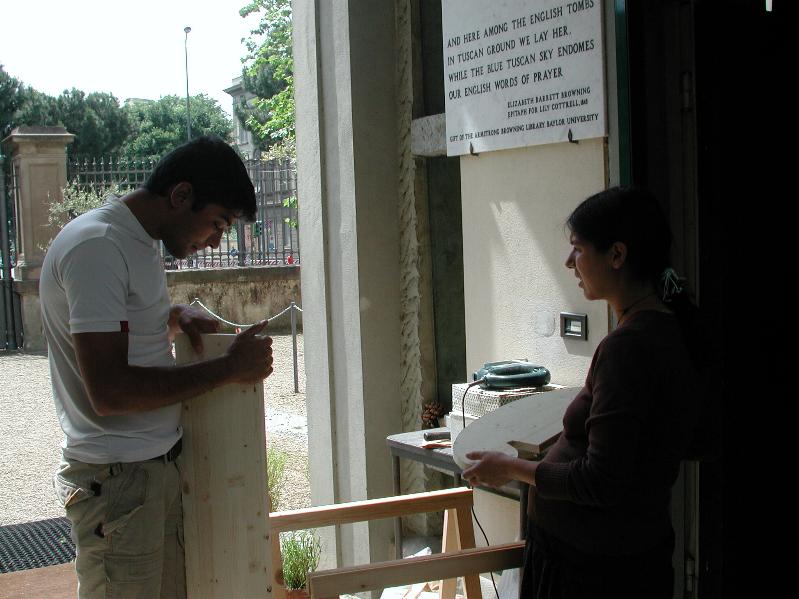 Daniel Dumitrescu and Vandana Culea making their cradle for their baby

And this is the new cradle: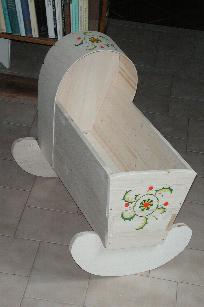 This world into which these babies are born is being stretched to the limit and made the cause for wars. Petroleum products for vehicles and for plastics seem more important than water. The ground is being wrecked with plastic non-biogradable garbage, especially babies' garbage, plastic absorbent diapers, nappies, which, moreover, now contain the same carcinogen that caused women's toxic shock. To diaper a modern baby costs thousands of dollars, euros. There is such a simple solution. Cloth diapers, cloth nappies, http://www.teamlollipop.co.uk, to be laundered, perhaps in a washing machine, perhaps even in the system I shared in Italy in the 1960s, where there are three troughs under a roof where the women can come together and gossip and wash the family's clothes, first with soap in the bottom trough, beating these out against the ribbed slanting stone, next wringing them, then rinsing them in the second trough higher up. Then a final rinse in the clear water of the third top trough. Each of these very slowly draining down into the next. I have never seen whiter whites or brighter colours. No soapy residue left that makes the cloth grungy. Instead garments that are soft and clean. This both saves water and improves women's mental health. As Ivan Illich said. Being alone in a kitchen with coffee and squalling babies does not. Later, travelling in Greece, I saw how villagers can conserve on energy, a family member taking the dinner to be cooked in the communal oven, then brought home again when it is ready.
And this is how to make a library, like the Bodleian's, in which this cradle can be placed: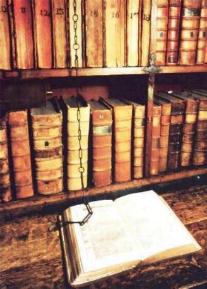 The shelves in the Bodleian Library go along rather than up and down, horizontally rather than vertically, and in this way there is less sag from the weight of the books. The joins are covered by lilied crosses. I copied these from the Bodleian, building two metre square book cases, larger than myself, just being able to get them in and out the main library door, for I cut the wood and assembled them inside, then stained them outside, then brought them in again to beeswax. Next filling them with books. I make my shelves eleven inches apart as I find this includes most books, folios lying on their sides, and in this way, I can organize books either alphabetically or chronologically in such a way that this logical shelving becomes the library system for cataloguing.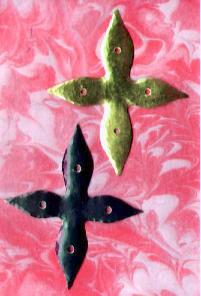 These lilied crosses are simplified from those in the Bodleian, and made by hand here in Italy, some in Settignano, above Florence, some in Volterra. They are both beautiful and functional, hiding the joins of the shelves and strengthening them at the same time. They change the mechanical square shape of the shelving into something organic, living, like the contents of the books upon them. They can be made in wrought iron or hammered brass. I make the marbled paper, too, for binding the library's books.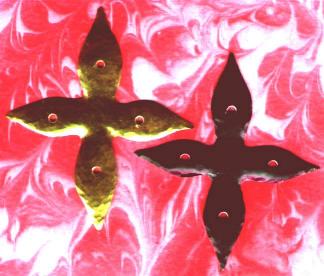 Saw by hand or with an electric saw the cuts in the two or three supporting planks that are equal to half of the shelf's measure, knocking them out with a tap of a chisel. Dovetail the similarly cut shelves into these grooves. Then nail as shown in the Back/Front drawings.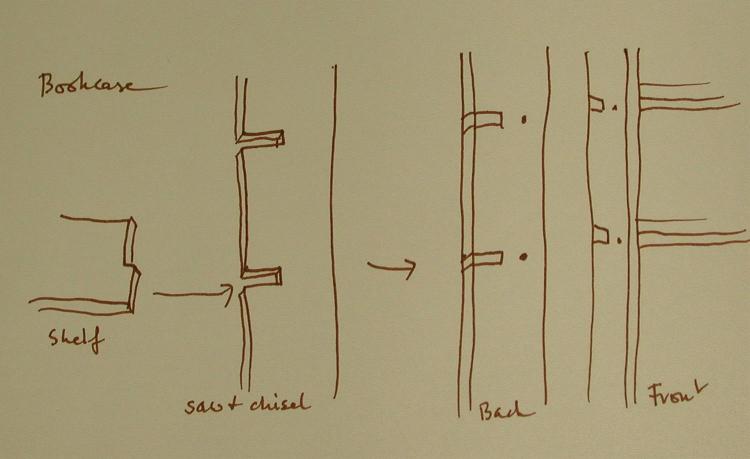 Both cradles and shelves are finished with warmed beeswax diluted with turpentine and linseed oil, the shelves being first lightly stained with Italian 'penetro', a powder made from ground walnut skins one dilutes with water, all organic substances. The ends of the shelves are lined with paper printed with the Benozzo Gozzoli fresco of the Orthodox Patriarch of Constantinople coming to the Council of Florence. The labels are printed on the computer using the Kelt font. We also, in the library's bottega, besides binding books and making cradles, frame pictures. In this way we become self-sufficient, not needing to pay others, but exchanging work and knowledge and love into what is both beautiful and useful. We print engravings on the press upstairs. And we have as well built a portfolio stand out of the left-over shelving for the bookcases:
The small pieces of left over wood from the overlapping joins we save and put into small bags with pieces of sandpaper to give to children to make into building blocks for the smaller children in their families.

On the library table we keep the pieces of broken pottery we find in the 'English Cemetery', formerly a medieval rubbish dump, and here we show a print made by Bruno Vivoli, of the Giotto Madonna that was once in the Badia, now in the Uffizi:
A detail, showing the curves of the ancient designs:
The hand-loomed linen comes from Farfa Sabina where they still weave designs that go back millennia, to Constantinople on the Bosporus and to the land of the Tigris and Euphrates Rivers, the cradle of our civilization from whence derived our alphabet and our designs.


How is our library organized on these shelves we have built? It begins with the Alphabet and the Bible, the Bible in Hebrew, Greek, Latin, and other languages. It goes on to include the Fathers of the Church, books on Judaism, on Islam, then the classic works each monastic order produced, Benedictines, Brigittines, Cistercians, Dominicans, Franciscans, etc., especially the contemplative works of theology women wrote, like Julian of Norwich and Birgitta of Sweden. A section follows on medieval pilgrimage. Then the pagan Greek and Latin classics, which had been preserved in medieval monasteries, but which in the Renaissance came to interrupt the flow from the semitic alphabet and Bible (the classical pagan world had pirated the semitic alphabet in order to write its classics!). Then Italian, especially Dante, whose

Commedia

and

Vita Nuova

we have read for two years every Thursday evening around our library table by candelight, and a section with French, German, Spanish, Portuguese, Russian books. Plus their dictionaries and grammars. Next Icelandic, Celtic, English books, from the Middle Ages, through the Renaissance and Victorian periods to our own. Then a bay with my publications. Then, codicology and paleography, how to read a manuscript, then art history, then crafts and skills, like weaving, lichen dyeing, bookbinding, paper marbling. A section on Florence. And finally, the children's shelf, with a reading carpet before it, and on it tiny Psalters in Hebrew and English, and Robert Browning's Pied Piper of Hamelin, and we let the children study the books reproducing medieval manuscripts, and also the alphabet, the library ending where it began. It is the kind of library in which Elizabeth Barrett Browning and Christine de Pizan had joyed as children, being allowed to read all their books, so they in turn became the writers of many books. Children, women, men belong in libraries. Extensions of the human brain. And children here, when being taught how to marble paper and make portfolios, next ask to turn them into booklets with pages sewn inside upon which to write their stories, their books. So let's bring cradles back from their exiles. The first days of our lives are those in which we learn the most, programming our brains and our bodies to our surroundings, and which are the base for all that follows.

See also How to Bind Books 1, How to Bind Books 2, How to Weave Websites, How to Embroider Drawn Threads, How to Raise a Child, etc. And coming soon, How to Marble Paper.

LIBRARY PAGES: BIBLIOTECA E BOTTEGA FIORETTA MAZZEI || ITS ONLINE CATALOGUE || HOW TO RUN A LIBRARY || MANUSCRIPT FACSIMILES || MANUSCRIPTS || MUSEUMS || FLORENTINE LIBRARIES, MUSEUMS || HOW TO BUILD CRADLES AND LIBRARIES || BOTTEGA || PUBLICATIONS || LIMITED EDITIONS || LIBRERIA EDITRICE FIORENTINA || SISMEL EDIZIONI DEL GALLUZZO || FIERA DEL LIBRO || FLORENTINE BINDING || CALLIGRAPHY WORKSHOPS || BOOKBINDING WORKSHOPS
See also Family and Convent Albums: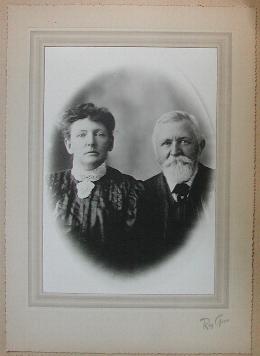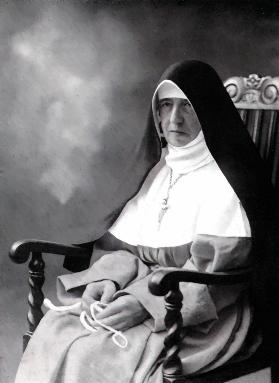 Mosaic
;
Gandhi
; BBC
http://catskill.gcal.ac.uk/repository/repos-fs/gcu/a0/a1/gcu-a0a1k7-b
.mov
a now lost recording of many voices 'Talking of Gandhiji', my father's voice one of these;
Death Valley Incident
;
Family Album
; Halbert Harold Holloway,
The Woman, the Sun, the Flowers and the Courage
;
Sir James Roberts
;
My England
(in progress);
Morris Dances of England
; Nigel Foxell,
Amberley Village
;
The Joy of the Bicycle
; Richard Ben Holloway,
Together Let Us Sweetly Live
; Jonathan Luke Holloway,
Home Birth Can Be An Option
;
Holmhurst St Mary
;
Mother Agnes Mason, C.H.F
.; Rose Lloyds,
Rose's Story
;
Deaf/Death
;
David and Solomon
;
How to Make Cradles and Libraries
; Hazel Oddy,
Martha's Supplication
;
Tangled Tale
;
Oliveleaf Chronicle
;
Vita
UMILTA WEBSITE || OLIVELEAF WEBSITE || JULIAN OF NORWICH, TEXT AND CONTEXTS || BIRGITTA OF SWEDEN, REVELATIONES, WEBSITE || CATALOGUE AND PORTFOLIO (HANDCRAFTS, BOOKS ) || BOOK REVIEWS || BIBLIOGRAPHY || FLORIN WEBSITE ©1997-2024 JULIA BOLTON HOLLOWAY


Blessed Olive Branch, Kenyan olive-
wood bowl, William Morris Print

To donate to the restoration by Roma of Florence's formerly abandoned English Cemetery and to its Library click on our Aureo Anello Associazione:'s PayPal button:
THANKYOU!